Akan volcano
Updated: Aug 10, 2022 17:41 GMT -
Refresh
caldera 1499 m / 4,918 ft
Hokkaido (Japan), 43.38°N / 144.01°E
Current status: normal or dormant (1 out of 5)
Last update: 13 Dec 2021 (Smithsonian / USGS Weekly Volcanic Activity Report)

Akan volcano (阿寒岳, Akan-dake) is one of Hokkaido's most active volcanoes. Akan consists of a large 24 x 13 km diameter caldera and a group of younger partly Holocene andesite cones. The highest point of the complex is the Mount Meakan (1499 m) stratovolcano.
The frequent historic eruptions occurred all from the Me-Akan group, east of Lake Akan. Me-Akan volcano (雌阿寒岳 Meakan-dake) consists of 9 overlapping cones. Its summit has 3 craters.
Me-Akan has had at least 17 small phreatic eruptions since the beginning of the 19th century and from geologic studies it is known that there were at least 4 major magmatic eruptions with pyroclastic flows have occurred in prehistoric time during the past 10,000 years.

Lake Akan is part of the Akan National Park. It is known for a rare green algae (marimo) which can grow to about the size of a soccer ball. The only town around the lake is the resort of Akankohan known for its hot springs and the "bokke", bubbling mud pools found at the lakeshore.
Typical eruption style:
explosive
Akan volcano eruptions:
2008, 2006, 1988, 1966, 1965, 1964, 1962, 1960, 1959, 1958, 1957, 1956, 1955, 1954, 1951(?)-52, 1927 (?), 1808 (?), 1800
Lastest nearby earthquakes:
No recent earthquakes
Background
The Akan caldera is located immediately SW of Kutcharo caldera and has an elonogated, irregular shape due to several caldera-forming explosive eruptions between the early and mid Pleistocene.
Growth of 3 post-caldera stratovolcanoes, 3 at the SW end of the caldera and the other at the NE side, has reduced the size of the caldera lake. The conical O-Akan volcano was frequently active during the Holocene. The 1-km-wide Nakamachineshiri crater of Me-Akan volcano was formed during a major pumice-and-scoria eruption about 13,500 years ago.
Akan Photos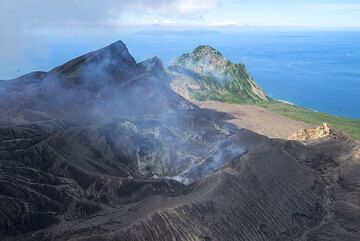 View over the crater of Mt Ontake volcano on Suwanose-jima; Nakano-jima island in the background to the NE. (Photo: Tom Pfeiffer)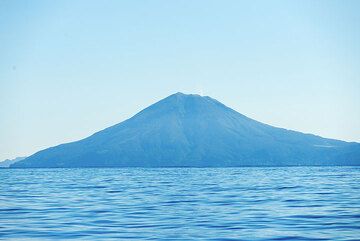 View of Mt Ontake stratovolcano of Nakano-jima volcano, Suwanose-jima's neighbor to the northeast. A gas plume can be seen rising from the summit crater, suggesting the v...
2008 eruption
Tremor was recorded on 17 November 2008. A small ash eruption occurred on 18 November, and was later detected by a fresh deposit of ash on snow in up to 400 m distance from the Ponmachineshiri crater. Another ash eruption occurred on 28 November, producing a small ash plume reaching 2 km altitude.
(Source: Smithsonian / GVP monthly reports)
2006 eruption
A small eruption occurred from a vent on the NE flank of Meakan on 21 March 2006. Ashfall was observed 10 km SE of the volcano.
1998 eruption
A small ash eruption occurred from Meakan volcano on 9 November 1998.
1996 eruption
A small phreatic eruption occurred on 21 November 1996.

See also: Sentinel hub | Landsat 8 | NASA FIRMS