Amak volcano
Updated: Jul 4, 2022 03:24 GMT -
Refresh
Stratovolcano 488 m / 1,601 ft
United States, Aleutian Islands, 55.42°N / -163.15°W
Current status: normal or dormant (1 out of 5)
Typical eruption style:
unspecified
Amak volcano eruptions:
1796
Lastest nearby earthquakes:
No recent earthquakes
Background
Amak, the easternmost of the Aleutian Islands, is a small island stratovolcano that like Bogoslof, lies north of the main Aleutian volcanic front. Amak is located about 50 km NW of Frosty volcano on the western tip of the Alaska Peninsula. The summit of the small, roughly 1 cu km Amak volcano is only 488 m above sea level. Blocky lava flows with prominent levees were emplaced during historical eruptions from 1700-1710 and in 1796 (Marsh, in Wood and Kienle 1990). The flows radiate from a well-defined central crater and cover much of the central part of the island. Earlier volcanism perhaps 4000-5000 years ago consisted of the emission of thin, platy andesitic lava flows. A flat alluvial plain on the south flank contains a flat-bottomed crater that may be a maar.
---
Smithsonian / GVP volcano information
Amak Photos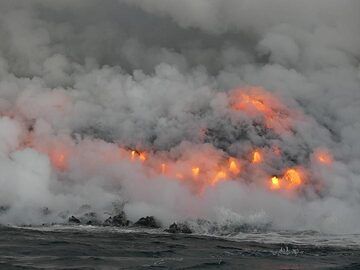 Day 5: A song of fire and water... Lava pouring into the ocean wants to create new land but is immediately attacked by the strong ocean waves. The never ending battle bet...

See also: Sentinel hub | Landsat 8 | NASA FIRMS