Antisana volcano
Updated: Jul 6, 2022 17:33 GMT -
Refresh
stratovolcano 5753 m / 18,874 ft
Ecuador, -0.48°S / -78.14°W
Current status: normal or dormant (1 out of 5)
Antisana volcano is a large, glacier covered stratovolcano 50 km SE Quito, Ecuador. It is located on the eastern margin of the Cordillera Real, at the latitude where the volcanic chain of the Northern Volcanic Zone is widest. Antisana is one of the largest volcanoes and highest peaks in Ecuador.
The Antisana complex contains 2 generations of volcanic edifices, an older volcano cut by calderas and eroded by glaciers and a young cone. The only confirmed historical eruption was from 1801 to 1802, when a lava flow was erupted from a vent NNE of the summit.
Antisana volcano is iside the Condor Bioreserve as part of the Antisana Ecological Reserve which comprises and area of 296,000 acres.
Typical eruption style:
explosive
Antisana volcano eruptions:
1801-02, 1728(?), 1590(?)
Lastest nearby earthquakes:
No recent earthquakes
Background
Antisana volcano was built in at least 2 phases: an older volcano was built above the basement of granitic and metamorphic rocks and forms the SE part of the massif, and still covers two-thirds of the volcano. It is composed of lava flows, numerous volcanic breccias and pyroclastic flow deposits. The activity culminated with 2 large eruptions which formed 2 calderas to the south and east, and the edifice was eroded by glaciers.
The younger volcanic cone, present-day Antisana, forms the NW flank of the massif and is composed by numerous lava flows radiating from the summit.
The region of the North Volcanic Zone around Antisana volcano has a striking lack of intermediate depth seismicity, and the depth of the subducted slab of the Nazca plate underneath Antisana is not known.
Lavas at Antisana are highly porphyritic (contain often >40% modal phenocrysts).

Sources:
- Smithsonian / GVP Antisana volcano information
- Bourdon et al (2002) "Adakite-like Lavas from Antisana Volcano (Ecuador): Evidence for Slab Melt Metasomatism Beneath the Andean Northern Volcanic Zone", J Petrology, v. 43 (2), pp.199-217
Antisana Photos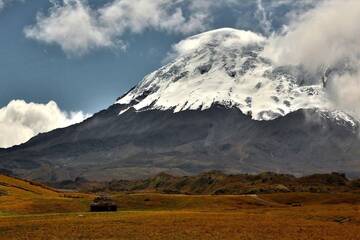 Snow-covered Antisana stratovolcano in Ecuador (Aug 2016) (Photo: Jiri VonDrak)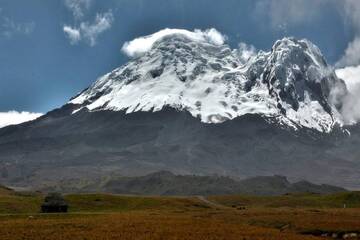 Snow-covered Antisana stratovolcano in Ecuador (Aug 2016) (Photo: Jiri VonDrak)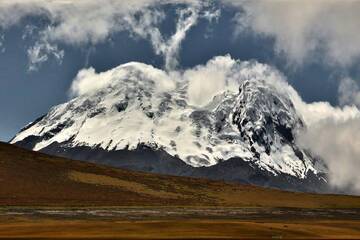 Snow-covered Antisana stratovolcano in Ecuador (Aug 2016) (Photo: Jiri VonDrak)
1801-02 eruption
The eruption occurred from 2 lateral fissures 15 km west of the base of the cone, which erupted the Antisanilla and Potrerillos lava flows of 10 and 15 km length, respectively.

See also: Sentinel hub | Landsat 8 | NASA FIRMS