Aso volcano news & activity updates
Aso Volcano Volcanic Ash Advisory: ACTIVITY CONT. VA AT 20190902/1200Z FL050 EXTD N OBS VA DTG: 02/1150Z
Monday Sep 02, 2019 12:15 PM | BY: VN
Volcanic Ash Advisory Center Tokyo (VAAC) issued the following report:
FVFE01 at 12:07 UTC, 02/09/19 from RJTD
VA ADVISORY
DTG: 20190902/1207Z
VAAC: TOKYO
VOLCANO: ASOSAN 282110
PSN: N3253 E13106
AREA: JAPAN
SUMMIT ELEV: 1592M
ADVISORY NR: 2019/163
INFO SOURCE: HIMAWARI-8 JMA
AVIATION COLOUR CODE: NIL
ERUPTION DETAILS: ACTIVITY CONT. VA AT 20190902/1200Z FL050 EXTD N
OBS VA DTG: 02/1150Z
OBS VA CLD: VA NOT IDENTIFIABLE FM SATELLITE DATA WIND FL050 180/7KT
FCST VA CLD +6 HR: NOT AVBL
FCST VA CLD +12 HR: NOT AVBL
FCST VA CLD +18 HR: NOT AVBL
RMK: WE WILL ISSUE FURTHER ADVISORY IF VA IS DETECTED IN SATELLITE
IMAGERY.
NXT ADVISORY: NO FURTHER ADVISORIES=
Previous news
More on VolcanoDiscovery: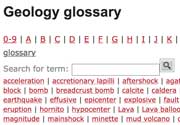 Glossary of geologic terms
: A growing list of often illustrated explanations and definitions of geological terms and keywords, with focus on volcanology and seismology.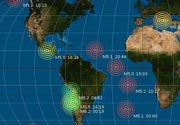 Monthy earthquake reports
: For each month since July 2012, we publish a summary of quake activity world-wide: find the list of largest quake, a map showing all significant quakes as well as detailed statistics on seismic activity during this time.