caldera 640 m / 2,100 ft
Banda Sea, Indonesien, -4.53°S / 129.87°E
Eruption list: 1988, 1901, 1890, 1855, 1835, 1825 (?), 1824, 1820, 1816, 1778, 1775, 1773,
1765, 1762, 1749, 1722, 1712, 1690, 1683, 1635, 1632, 1615, 1614 (?), 1609, 1598, 1586
1988 eruption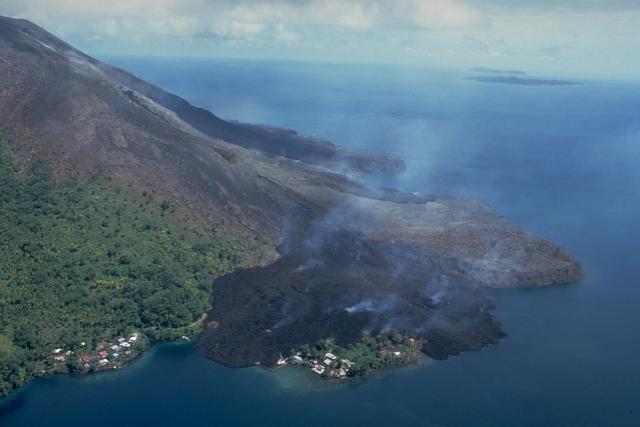 Lava flow destroying the village of Batu Angus on the northern flank of the volcano (image: Tom Casadevall/USGS via GVP)
Banda Api erupted explosively on 9 May 1988. An ash plume of 3 km height was produced and large incandescent bombs were ejected. Lava flows traveled east towards Neira Island. A row of 5 vents were active at the summit. During 8-10 May, frequent earthquakes were felt in Neira village 2 km east of the summit.
1800 residents were evacuated to Neira and Lontar Islands, and 5,000 of Neira city's residents were evacuated to safer areas.
Satellite observations showed that the ash from the eruption reached an altitude of 16 km. The eruption ended in August 1988.
---
Source:
GVP monthly reports
Hazard map of Banda Api volcano (PVMBG)