Bandai volcano
Updated: Aug 13, 2022 00:57 GMT -
Refresh
stratovolcano 1819 m / 5,968 ft
Honshu (Japan), 37.6°N / 140.08°E
Current status: normal or dormant (1 out of 5)
Bandai volcano (or Bandaisan volcano), one of Japan's most known active volcanoes, is an complex andesitic stratovolcano rising above the north shore of Lake Inawashiro.
The volcano is located in the southern part of the NE Honshu volcanic arc.
The last magma was erupted at Bandai about 25,000 years ago, but during the past 5000 years, 4 major phreatic explosions have occurred at the volcano. 2 of them occurred in historical time, in 806 and 1888.
In 1888, the youngest edifice of Bandai, Ko-Bandai, collapsed in a catastrophic way after a large phreatic eruption, producing a debris avalanche that buried several villages and formed several large lakes. Seen from the south, Bandai presents a conical profile, but much of the north side of the volcano is missing as a result of the collapse of Ko-Bandai volcano during the 1888 eruption.
Typical eruption style:
explosive
Bandai volcano eruptions:
1888, 1808 (?), 1787, 1767 (?), 1719, 1611 (?), 806 AD
Lastest nearby earthquakes:
No recent earthquakes
Background
The Bandai complex is formed of several overlapping andesitic stratovolcanoes, the largest of which is O-Bandai. Ko-Bandai volcano, which collapsed in 1888, was formed about 50,000 years ago.
O-Bandai volcano was constructed within a horseshoe-shaped caldera that formed about 40,000 years when an older volcano collapsed, forming the Okinajima debris avalanche, which traveled to the SW and was accompanied by a plinian explosive eruption.
(Source: GVP)
Bandai-type eruptions:
The 1888 phreatic eruption and slope failure event is often referred to as Bandai-type (Bandaian) eruptions: major slope failures caused by phreatic eruptions. In contrast, Bezymianny-type eruptions (after the 1956 collapse of Bezymianny volcano in Kamchatka), include a magmatic component, i.e. juvenile magma erupted. Slope failure without eruption can occur as well, as happened at Unzen volcano in 1792.
Bandai Photos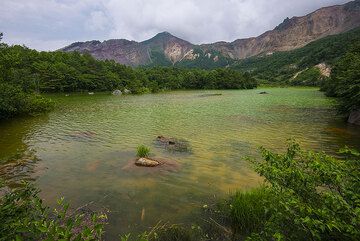 Lake in the 1888 landslide scar of Bandai volcano (Photo: Tom Pfeiffer)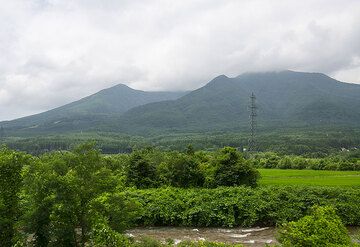 The amphitheater of Bandai volcano n (Honshu, Japan) left by the 1888 landslide. (Photo: Tom Pfeiffer)
2000 earthquakes
On 15 August, 416 earthquakes, and 2 periods of volcanic tremor were recorded at Bandai volcano. Climbers were banned from the mountain from 18 August. No eruption followed the seismic swarm.
1987 earthquake swarm
An earthquake swarm was detected at Bandai volcano on 16 June with 155 quakes measured.
1888 eruption and debris avalanche
On 15 July, 1888, the north flank of Bandai Volcano in Japan exploded and collapsed during an eruption quite similar to the May 18, 1980 eruption of Mount St. Helens. After a week of seismic activity, a large earthquake on July 15, 1888, was followed by a tremendous noise and a large explosion.
The flank of Bandai collapsed into a debris avalanche that descended the north side of the mountain and covered several villages and killed 461 people.
A vertical explosion reaching 5 km height, a lateral blast and pyroclastic flows that traveled 6 km were also generated. The avalanche destroyed the Kobandai cone and removed an estimated 1.5 cubic km of volume and covered an area of 34 sq km. Eyewitnesses reported speeds of the avalanche reaching about 80 km/hr.
...
more

See also: Sentinel hub | Landsat 8 | NASA FIRMS