Bárcena volcano
Cinder cones 332 m / 1,089 ft
Mexican Islands (Mexico), 19.3°N / -110.82°W
Current status: normal or dormant (1 out of 5)
Barcena volcano forms the southern part and most significant feature of Isla San Benedicto, the 3rd largest and north-easternmost of the 4 Islas Revillagigedo islands about 350 km south of Cabo San Lucas, Baja California.
The volcano formed by eruptions during 1952-53 and consists in a 700 m wide and 330 m high tuff cone with a circular crater and a spectacular lava delta on the east side formed by a trachytic lava flow that breached the crater and entered the sea. The eruption was the first historic eruption witnessed in the eastern Pacific Ocean.
Typical eruption style
: Explosive.
Bárcena volcano eruptions
: 1952-1953
| | | | |
| --- | --- | --- | --- |
| Time | Mag. / Depth | Distance | Location |
Background
San Benedicto island is a 4.5 km long NE-SW elongated island composed of several volcanic vents that have migrated SW over time. Pleistocene trachytic lava domes form the northern part, and historical Bárcena volcano and Montículo Cinerítico, a smaller tephra cone preceding Bárcena and largely covered by it, form the southern tip of the island.
Montículo Cinerítico may also have been constructed during the past few hundred years and formed the high point of the island prior to the formation of Bárcena. The formation of Bárcena began in August 1952 and was accompanied by strong explosive eruptions and pyroclastic flows including radial base surges.
The eruption concluded the following year with the emplacement of two small lava domes in the crater and extrusion of a prominent coastal lava delta at the SE base of the cone.
---
Source: GVP, Smithsonian Institution
1952-53 eruption
Barcena volcano was born during 's only historic eruption which began on 1 August 1952, from the El Boquerón vent. The eruption began with powerful vulcanian explosions creating base surges, which were witnessed from a nearby fishing boat. Large amounts of ash and pumice quickly built a new cinder cone built at the southern end of the island. In the later stage of the eruption, a viscous lava dome and lava flow emerged from the crater in December and flew to the east and created a spectacular, perfectly half-circular lava delta, known as the "Delta Lavico". ...
more
See also:
Sentinel hub
|
Landsat 8
More on VolcanoDiscovery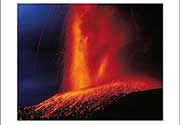 Vulkane Italiens - order online
: 88 pages, brilliant color photos, German language - this beautifully illustrated guidebook is a perfect introduction and companion for all interested in Italy's rich and varied volcanic areas.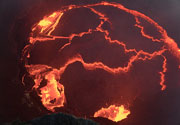 Photos from lava lakes in the world: Erta Ale, Nyiragongo, Hawaii, Vanuatu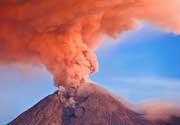 Merapi volcano photos
: One of the most active and most dangerous volcanoes of Indonesia: Merapi meaning "the one who makes fire", is a feared but also venerated holy mountain looming over the city of Yogyakarta, capital of Central Java.