Barva volcano
Complex volcano 2906 m / 9,534 ft
Costa Rica, 10.14°N / -84.1°W
Current status
:
normal or dormant
(1 out of 5) |
Reports
Barva volcano books
Typical eruption style
: unspecified
Barva volcano eruptions
: 6050 BC ± 1000 years
Time
Mag. / Depth
Distance
Location
Wed, 30 Sep 2020
Wed, 30 Sep 05:59 UTC
M 3.8 / 69 km
8 km
2 Km Al Oeste De Vara Blanca, Costa Rica
Mon, 28 Sep 2020
Mon, 28 Sep 11:34 UTC
M 2.7 / 11 km
26 km
2 Km Al Suroeste De Santa Ana, San Jose., Costa Rica
Sun, 27 Sep 2020
Sun, 27 Sep 04:13 UTC
M 2.5 / 10 km
27 km
2 Km Al Sureste De Piedades De Santa Ana., Costa Rica
Sat, 26 Sep 2020
Sat, 26 Sep 15:09 UTC
M 3.1 / 10 km
26 km
2 Km Al Sur De Santa Ana, San Jose., Costa Rica
Fri, 25 Sep 2020
Fri, 25 Sep 04:19 UTC
M 2.8 / 87 km
5 km
12 Km Al Este De Varablanca, Heredia., Costa Rica
View all recent quakes
Background:
The central and least known of three massive volcanoes towering over the capital city of San José, Volcán Barva (Barba) is a complex volcano with multiple summit and flank vents. Its three principal summits visible from the Central Valley give it the common local name of Las Tres Marías. The voluminous andesitic-to-dacitic Tiribí Tuff, exposed in the Central Valley of Costa Rica, was erupted about 322,000 years ago from the Barva summit caldera. Four pyroclastic cones are constructed within the 2 x 3 km caldera at the central and NW part of the summit. The SW peak contains four cones, one of which has a crater lake. Satellitic cones are found on the northern and southern flanks. Lava flows blanket the south side of Barva volcano. The Los Angeles flow, one of the most recent, descends nearly to the city of Heredia. A large plinian eruption occurred at Barva during the early Holocene. Eruptions were reported in 1760 or 1766, 1776? (also a mudflow), and 1867, but later visits to the summit did not provide evidence of eruptions during historical time.
---
Smithsonian / GVP volcano information
See also:
Sentinel hub
|
Landsat 8
More on VolcanoDiscovery
If you find the website useful and would like to support us and help keep it alive and improve it, please consider
making a small donation
.
Thank you!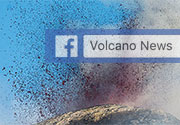 Volcano News group
: Join our group on facebook: post reports, updates, or other interesting facts about volcanism and volcanic activity worldwide and discuss with other members.
Volcanoes & Cultures
: The contrast between unspoiled rain-forest, coconut palm beaches, primitive culture and moon-like landscapes surrounding lava-spitting volcanoes could not be bigger: join us on an expedition to the two most active volcanoes of Vanuatu: Ambrym and Yasur.