Black Island volcano
Updated: Aug 8, 2022 17:21 GMT -
Refresh
Pyroclastic cone(s) 1041 m / 3415 ft
Antarctica, -78.22°S / 166.33°E
Current status: (probably) extinct (0 out of 5)
Typical eruption style:
unspecified
Black Island volcano eruptions:
None during the past 10,000 years
Less than few million years ago (Pleistocene)
Lastest nearby earthquakes:
No recent earthquakes
Background
A series of basaltic pyroclastic cones and trachytic lava domes form Black Island, in the Ross Sea west of White Island. Potassium-Argon dates of 3.4 Ma were obtained (LeMasurier and Thomson 1990). Martin et al. (2010) reported dates of 3.8-1.69 million years.
---
Source: Smithsonian / GVP volcano information
Black Island Photos
Lava rocks containing olivine can be found on some black sand beaches of Lanzarote, Canary islands (Photo: Janka)
Red scoria lava and black basalt lava at Avlaki on Nisyros island. (Photo: Tobias Schorr)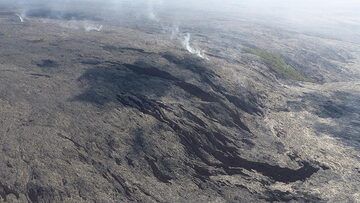 Extension day 3: Older lava flows that came down the pali left a kipuka (vegetation island) behind. More recent surface lava outbreaks are recognisable by their dark brow...
Most of this material contributes to new black sand that is being formed here and accumulates on the submarine slope of the island. (Photo: Tom Pfeiffer)

See also: Sentinel hub | Landsat 8 | NASA FIRMS