Europe's volcanoes: books
by Alwyn Scarth, Jean-Claude Tanguy
Oxford University Press (May 31, 2001)
Paperback (264 pages)
Volcanoes have contributed in large part to the formation of the Earth's crust and atmosphere--and are intimately tied to the history of humanity. The most ancient civilizations of Europe have preserved the imprint of these spectacular and often terrifying phenomena. The explosion of Santorini, some 3600 years ago in the Aegean, undoubtedly inspired the Greek fables of Atlantis, the eruptons of Etna (Sicily) are the origin of the image of the forges of Cyclops and other myths, and the concept of Hades was linked to numerous volcanoes in the Mediterranean. Italy was the birthplace of the science of volcanology, and the Atlantic (Iceland and the Azores) volcanoes have given unrivalled opportunity for the study of volcanic islands recently formed. This book, both reference and guide, presents the causes, initiation, and growth of these volcanoes against a background of their environmental aspects and contemporary activity. Special attention is given to the impact on the people who live on or around them. The volcanoes of and volcanic activity in the Mediterranean basin, the Atlantic, and France and Germany are described in clear prose with a minimum of technical jargon. A glossary of volcanic terms used in the local languages is included, and the book is well illustrated with black and white photographs and maps, and an 8-page color insert.
by Chris Kilburn, Bill McGuire
Terra Publishing (UK) (September 1, 2001)
Paperback (166 pages)
"Italian Volcanoes" presents the origin and geology of Itay's volcanism and has individual chapters devoted to each active volcano. It contains descriptions and geological information for a number of important eruptions (e.g. the huge eruption of Etna in 1669) and modern interpretations to explain the causes and underlying processes. For Etna, it has 39 pages divided into general descriptions and a field guide. As the companion book "Volcanoes of Europe", "Italian Volcanoes" provide well-written and easily understandable information for everyone seriously interested in the fascinating world of active volcanism in Italy.
by John E. Guest, Paul D. Cole, Angus M. Duncan, David K. Chester
Geological Society of London (January 30, 2006)
Paperback (284 pages)
The volcanoes of southern Italy show a wide diversity in the type of volcanism. In consequence, the products and the resulting landforms illustrate most of the known volcanic phenomena, all within a small geographic area. Because the area was at the centre of western civilization in classical times, there is a longer, more continuous record of observed volcanism than in virtually any other part of the world. Thus studies of volcanoes in southern Italy have played a central role in the development of ideas in earth science.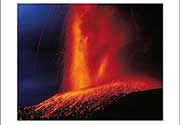 Vulkane Italiens - order online
88 pages, brilliant color photos, German language - this beautifully illustrated guidebook is a perfect introduction and companion for all interested in Italy's rich and varied volcanic areas.
Note: More book recommandations, specific to individual volcanoes/regions can often be found inside the sections devoted to the individual areas/volcanoes from the main menu volcanoes.