Broken Top volcano
Updated: Aug 8, 2022 00:31 GMT -
Refresh
stratovolcano 663 m / 2,175 ft
Oregon (Canada and USA (mainland)), 44.08°N / -121.7°W
Current status: (probably) extinct (0 out of 5)
Broken Top in the Three Sisters Wilderness, Oregon, is, as the name suggests, the heavily eroded top of a probably extinct stratovolcano.
Typical eruption style:
Explosive
Broken Top volcano eruptions:
unknown, but probably none during the past 10,000 years
Lastest nearby earthquakes:
No recent earthquakes
Background
The earliest products were basaltic lava flows forming a basal shield. Later stage eruptions built a steeper cone of more silica rich lava flows and pyroclastic deposits.
Broken Top Photos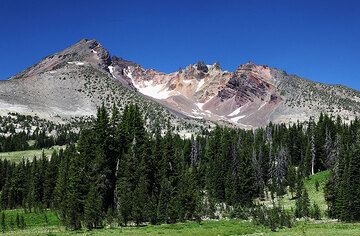 Broken Top volcano, Oregon (Photo: Richard Arculus)

See also: Sentinel hub | Landsat 8 | NASA FIRMS