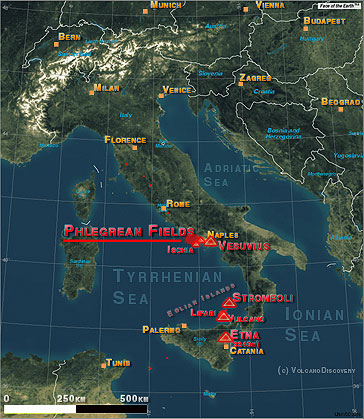 Location map of the Phlegrean Fields
After the water in the Averno crater lake turned red last week because of an unusually strong algae bloom, stretches of the sea in the Gulf of Pozzuoli also turned red recently, presumably from the same phenomenon. ...
Read all
Weak volcanic unrest continues with little variation over the past months at the caldera volcano. Ground inflation continues at steady rates of up to 1 cm per month, centered in the Pozzuoli area, and micro-seismic and degassing activity remain elevated. ...
Read all
Satellite view of the Campi Flegrei; the Gulf of Pozzuoli in the foreground, parts of the Gulf of Naples and the city of Naples in the right background