Central Island volcano
Tuff cones 550 m / 1,804 ft
Kenya, 3.5°N / 36.04°E
Current status: normal or dormant (1 out of 5)
Typical eruption style
: unspecified
Central Island volcano eruptions
: unknown, no recent eruptions
Latest nearby earthquakes
| | | |
| --- | --- | --- |
| Time | Mag. / Depth | Distance/Location |
Background
Central Island, also known as Crocodile Island, occupies the middle of Lake Turkana and is composed of more than a dozen craters and cones, three of which are filled by small lakes. The two largest lakes partially fill craters up to a km wide and about 80 m deep whose floors lie near sea level. The highest point on the dominantly basaltic island reaches 550 m, about 170 m above the lake surface. An E-W-trending chain of small explosion craters cuts the eastern side of the 3-km-wide island. Several small islands to the SE represent partially submerged crater rims, and other cones and lava plugs lie beneath the lake surface near the island. The youngest Central Islands tuffs and lavas may be as young as Holocene (Karson and Curtis, 1992). Fumarolic activity is concentrated along the NE-to-SE rim of the central crater, and sprays of sulfur from the fumaroles were observed by visitors in the 1930s. In 1974 intense emission of molten sulfur and steam clouds were seen from the mainland.
---
Smithsonian / GVP volcano information
Central Island Photos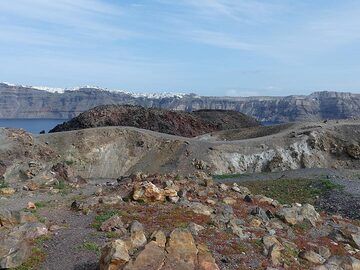 View from the central crater on Nea Kameni to a peripheral lava dome and flow and beyond the caldera cliffs below the town of Fira on Thera island. (Photo: Ingrid Smet)
Triple eruption from the western, central and eastern vents of Stromboli volcano. The island's moonlight shadow can be seen in the background over the sea. (Photo: Tom Pf...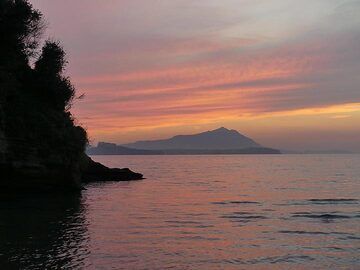 Pink and orange sky above the Phlegraean islands of Procida (central flat silhouette with building to the left) and Ischia (silhouette in the background with small mounta...
Panoramic view of the central area of Nea Kameni with eruption and explosion craters, monitoring equipment (front left) and a red-oxidised lava dome and flow (right). In ...

See also: Sentinel hub | Landsat 8