Cerro Buena Vista volcano
Typical eruption style
: unspecified
Cerro Buena Vista volcano eruptions
: None during the past 10,000 years
Less than few million years ago (Pleistocene)
Time
Mag. / Depth
Distance
Location
Sat, 25 Apr 2020
Sat, 25 Apr 11:51 UTC
M 2.6 / 1 km
6 km
7 Km al noroeste de Intipucá, El Salvador
Thu, 26 Mar 2020
Thu, 26 Mar 18:41 UTC
M 2.7 / 8 km
10 km
5 Km al norte de Intipucá, El Salvador
Tue, 24 Mar 2020
Tue, 24 Mar 04:44 UTC
M 2.1 / 9 km
14 km
12 Km al oeste de Playa El Cuco, El Salvador
Sun, 22 Mar 2020
Sun, 22 Mar 10:20 UTC
M 2.5 / 5 km
8 km
12 Km al norte de Intipucá, El Salvador
Sun, 22 Mar 04:39 UTC
M 2.8 / 4 km
8 km
8 Km al norte de Intipucá, El Salvador
View all recent quakes
Background:
Cerro Buena Vista is an eroded Pleistocene stratovolcano located in the Jucuarán Range in the SE corner of El Salvador. The 750-m-high volcano lies near the Pacific coast, SW of Laguna de Olomega. A broad crater roughly 1 km wide is breached to the WSW.
---
Source: Smithsonian / GVP volcano information
See also:
Sentinel hub
|
Landsat 8
More on VolcanoDiscovery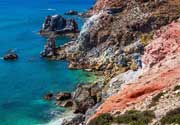 Island of Venus
: Milos Island in Greece is one of the most beautiful and photogenic islands of the Mediterranean. Its boasts breathtaking scenery of colorful volcanic rocks, some of the finest beaches of the country, a rich archeological heritage, great hospitality and delicious local cuisine. Come join us to explore this magical island on a 6-days geological tour!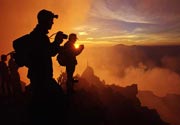 Volcano Trekking
: A physically active tour to visit and climb some of Indonesia's most active and famous volcanoes: Papandayan and Galunggung in West Java, Merapi in Central Java, Kelud, Semeru, Bromo, the Tengger caldera, and Ijen in East Java.