Chillán volcano news & activity updates:
Nevados de Chillán Volcano Volcanic Ash Advisory: SPORADIC WEAK EMISSIONS OF VA to 12000 ft (3700 m)
Thu, 23 May 2019, 17:45
17:45 PM | BY: VN
Satellite image of Nevados de Chillán volcano on 23 May 2019
Explosive activity continues. Volcanic Ash Advisory Center (VAAC) Buenos Aires warned about a volcanic ash plume that rose up to estimated 12000 ft (3700 m) altitude or flight level 120 .
The full report is as follows:
FVAG02 at 17:36 UTC, 23/05/19 from SABM
VA ADVISORY
DTG: 20190523/1730Z
VAAC: BUENOS AIRES
VOLCANO: NEVADOS DE CHILLAN 357070
PSN: S3651 W07122
AREA: CHILE
SUMMIT ELEV: 10538 FT [3212 M]
ADVISORY NR: 2019/118
INFO SOURCE: GOES-E. GFS WINDS. VOLCANO WEB
CAMERA.
AVIATION COLOR CODE: NOT GIVEN
ERUPTION DETAILS: SPORADIC WEAK EMISSIONS OF VA
OBS VA DTG: 23/1700Z
OBS VA CLD: SFC/FL120 S3621 W07117 - S3622 W07107
- S3647 W07117 - S3651 W07122 - S3621 W07117 MOV
NE 10KT
FCST VA CLD +6HR: 23/2300Z SFC/FL120 S3614 W07059
- S3637 W07052 - S3651 W07122 - S3638 W07117 -
S3614 W07059
FCST VA CLD +12HR: 24/0500Z SFC/FL120 S3640
W07029 - S3656 W07035 - S3650 W07122 - S3641
W07104 - S3640 W07029
FCST VA CLD +18HR: 24/1100Z SFC/FL120 S3650
W07122 - S3654 W07035 - S3706 W07039 - S3650
W07122
RMK: WEAK VA PULSES MOV NNE CAN BE SEEN IN STLT
IMAGERY UNDER MOSTLY CLEAR SKIES. ...SMN
NXT ADVISORY: WILL BE ISSUED BY 20190523/2330Z=
Previous news
More on VolcanoDiscovery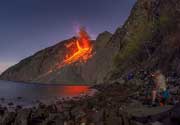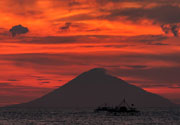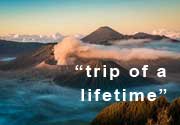 What clients have said
: Browse through feedback about our tours from customers, read what they have said about us!