Chillán volcano news & activity updates:
Nevados de Chillán Volcano Volcanic Ash Advisory: PUFF EMISSION OF VA to 13000 ft (4000 m)
Fri, 24 Jan 2020, 17:30
17:30 PM | BY: VN
Explosive activity continues. Volcanic Ash Advisory Center (VAAC) Buenos Aires warned about a volcanic ash plume that rose up to estimated 13000 ft (4000 m) altitude or flight level 130 and is moving at 25 kts in NE direction.
The full report is as follows:
FVAG02 at 17:15 UTC, 24/01/20 from SABM
VA ADVISORY
DTG: 20200124/1715Z
VAAC: BUENOS AIRES
VOLCANO: NEVADOS DE CHILLAN 357070
PSN: S3651 W07122
AREA: CHILE
SUMMIT ELEV: 10538 FT [3212 M]
ADVISORY NR: 2020/004
INFO SOURCE: GOES-E. GFS. WEBCAM.
AVIATION COLOUR CODE: NOT GIVEN
ERUPTION DETAILS: PUFF EMISSION OF VA
OBS VA DTG: 24/1650Z
OBS VA CLD: SFC/FL130 S3641 W07058 - S3650 W07055
- S3652 W07122 - S3641 W07058 MOV NE 25KT
FCST VA CLD +6 HR: 24/2300Z SFC/FL130 S3627 W07017
- S3656 W07016 - S3649 W07052 - S3631 W07048 -
S3627 W07017
FCST VA CLD +12 HR: 25/0500Z NO VA EXP
FCST VA CLD +18 HR: 25/1100Z NO VA EXP
RMK: SINGLE PUFF EMISSION WAS DETECTED IN WEBCAM
AND STLT IMAGERY. ...SMN
NXT ADVISORY: WILL BE ISSUED BY 20200124/2315Z=
Previous news
More on VolcanoDiscovery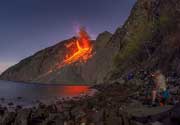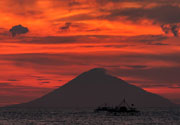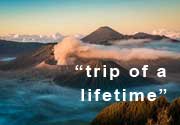 What clients have said
: Browse through feedback about our tours from customers, read what they have said about us!