Dalafilla volcano
Updated: Nov 29, 2023 05:19 GMT
-
stratovolcano 613 m / 2011 ft
Ethiopia, 13.79°N / 40.55°E
Current status: normal or dormant (1 out of 5)
Last update: 14 Dec 2021

Dalafilla (or Alu-Dalafilla) is a stratovolcano in the Erta Ale range, Ethiopia. It had a major effusive eruption on Nov 4, 2008 - one of the largest effusive eruptions in Africa during historic times.
Typical eruption style:
effusive
Dalafilla volcano eruptions:
Nov-Dec 2008
Latest nearby earthquakes
No recent earthquakes
Background
Dalaffilla (or Alu-Dalafilla), also called Gabuli, is one of the 6 volcanoes in the Erta Ale range in the northern Danakil desert in Ethiopia: Gada Ale, Alu-Dalaffilla, Borale Ale, Erta Ale, Hayli Gubbi and Ale Bagu.
Dalaffilla is a small conical stratovolcano with steep upper flanks and rises 300 m above surrounding lava fields SE of Alu volcano to 600 m above sea level.
Dalaffilla's shape with steep (up to ca. 35 deg) slopes is unusual for the Erta Ale Range volcanoes, which are mostly shield volcanoes made by basaltic lava flows. Dalafilla's cone is constructed of very viscous silicic flows that extend primarily to the east, while they are blocked to the west by tectonic morphologies. Numerous fissures surrounding the volcano have created lateral lava flows and constructed small cinder cones.
Fumarolic activity occurs in the 100-m-wide summit crater and has weathered surrounding lava flows.
The 2008 eruption started from a fissures on the rift axis between Dalaffilla and Alu volcanoes and produced enormous quantities of lava flows covering an estimated 300 square kilometers after the first days of the eruption. It is the first known eruption at Dalaffilla in historic times and likely to be one of the largest eruptions in the known history of Ethiopia.
Dalafilla Photos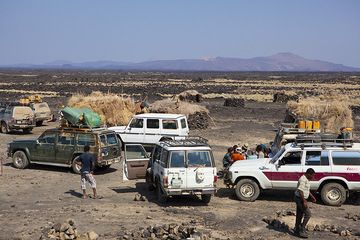 Landcruisers gather at the basecamp of Erta Ale. The volcanic chain to the north in the background, including Alu and Dalafilla volcanoes. (Photo: Tom Pfeiffer)




See also: Sentinel hub | Landsat 8 | NASA FIRMS