Dama Ali volcano
Updated: Jul 6, 2022 04:38 GMT -
Refresh
Shield volcano 1068 m / 3,504 ft
Ethiopia, 11.28°N / 41.63°E
Current status: normal or dormant (1 out of 5)
Typical eruption style:
unspecified
Dama Ali volcano eruptions:
1631
Lastest nearby earthquakes:
No recent earthquakes
Background
Dama Ali is a broad shield volcano that rises above the NW shore of Lake Abbe (also known as Lake Abhe) in eastern Ethiopia. The 25-km-wide volcano was constructed at the southern end of the Kalo Plain. Nested circular craters are located at the summit of the dominantly basaltic volcano, which also displays an older caldera rim. An arcuate chain of rhyolitic lava domes occupies the northern, western, and southern flanks. Youthful basaltic lava flows surround these domes and blanket the flanks of the volcano, and recent flows cover the young sediments of the Kalo and Abhe basins. The Asmara basaltic pyroclastic cone located in the southern Kalo basin SW of the base of Dama Ali volcano and was considered to have had activity during the last 2000 years (International Association of Volcanology and Chemistry of the Earth's Interior, 1973). Dama Ali is considered the most likely source of an eruption reported to have occurred in 1631 (Gouin, 1979). Major fumarolic activity occurs in the summit crater, and abundant hot springs are found on the volcano.
---
Smithsonian / GVP volcano information
Dama Ali Photos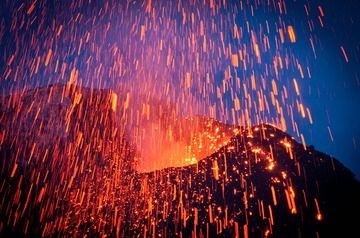 Fireworks at Stromboli volcano, Italy. The photo was taken in spring 2009 and shows an explosion from Stromboli's NE crater in the evening twilight. In the first half of ...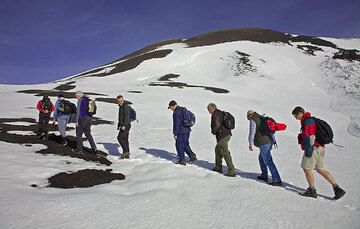 The first half of the climb to Bocca Nuova is in the relatively flat area around the summit complex known as the Piano caldera (probably formed during a violend summit er...

See also: Sentinel hub | Landsat 8 | NASA FIRMS