Bebenarchiv: Erdbeben in der Nähe des Vulkans Ätna am 2. Oktober 2022
- Liste, Karte und Statistiken
Aktualisiert: 7. Dez. 2022 21:31 GMT
-
Erdbebenarchiv
Finde Erdbeben in dieser Region nach Tag, Monat, Jahr oder Datumsbereich:
Interaktive Karte anzeigen
Tiefe und Magnitude von Beben über Zeit
Zeige Beben ab Stärke

0.1

(

1

earthquake):
Datum und Uhrzeit
Mag
Tiefe
Entfernung
Ort
Details
Karte
Sonntag, 2. Oktober 2022 GMT (1 Beben)
2. Okt. 2022 17:17 (GMT +2)

(2. Okt. 2022 15:17 GMT)




1.8


28 km
13 km (8.1 mi)
5 km nordöstlich von Bronte, Provinz Catania, Sizilien, Italien
Mehr
Karte
Geschätzte insgesamt freigesetzte seismische Energie:
3.2 x 10
7
Joule (8.78 Kiloawattstunden) |
about seismic energy
INGV reported that at about 1800 on 27 November a vent opened at the NE base of Etna's SE Crater, at 2,800 m elevation, and produced a lava flow. The flow slowly advanced a few hundred meters towards the Valle del Leone. Tremor levels at the time the vent opened showed no variations from the average trend recorded during the previous week, and no notable changes were identified in deformation data. ...
Read all
The effusive eruption at the volcano continues at fluctuating intensity. ...
Read all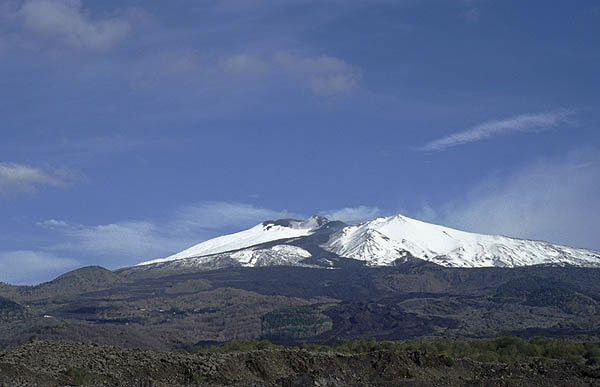 Snow-covered Etna volcano with the fresh lava flows from 2002/03