8 Tage Ätna
Hinweis:
Änderungen im Ablauf sind aus Gründen des Wetters oder vulkanischer Tätigkeiten möglich
Tag 1:

Ankunft

Ankunft auf dem Flughafen Catania CTA und selbst organisierter Transfer zum Hotel in Catania mit dem Bus oder Taxi. Die Gruppe trifft sich am Abend zum Abendessen und zur Besprechung des Programms.
Tag 2:

Transfer to Etna and excursion

Transfer to Etna's south slope where we will spend 6 nights. We will have 6 days for excursions to explore Etna and its surroundings.

Depending on the conditions the program can be changed.
Tag 3:

Exkursion zu den Gipfelkratern des Ätna

Ganztägiger Ausflug in die Gipfelregion des Ätna: rauchende Krater, vulkanische Aktivität und eine eindrucksvolle Mondlandschaft erwarten Sie.
Tag 4:

Excursion to Valle del Bove

Whole-day excursion to Etna's summit region. Depending on circumstances, we visit the summit craters, the spectacular Valle del Bove or sites of possible volcanic activity if present.
Tag 5:

Castelmola, Taormina, Alcantara

Ausflug nach Castelmola und Taormina, Schlucht von Alcantara, nachmittags Weinprobe.

Das Mittagessen an diesem Tag ist nicht inbegriffen.
Tag 6:

Etna Nord East

A full day excursion to Etna nord-est and climb to Serracozzo for an overview of the Valle del Leone, visit 1991-93 lava flow at Zafferana. Wine /oil/honey testing (extra cost)
Tag 7:

Nord-Ätna

Heute unternehmen wir einen Ausflug auf die Nordseite des Ätnas, die einen völlig anderen Charakter hat, und die von grünen Wäldern und Lavawüsten geprägt ist.

Ganztagestour auf dem Nord-Ätna, beginnend mit dem Mt. Sartorius mit der Grundline des Ausbruchs von 2002.

5 Stunden Wanderung, bergauf 1700-2500 m, bergab 2500-1900 m
Tag 8:

Abreise

Ende der Reise oder optionale Verlängerung des Aufenthalts auf Sizilien.
Anreise:
Die Tour beginnt und endet in Catania, Siziliens zweitgrößter Stadt, die leicht mit dem Flugzeug oder dem Zug von Rom oder anderen großen italienischen Städten aus zu erreichen ist. Reisearrangements von und nach Catania sind nicht im Reisepaket enthalten, um allen Gästen die größtmögliche Flexibilität bei der Reiseplanung zu geben. Bitte lassen Sie uns wissen, wenn Sie Hilfe bei Ihren internationalen Reisen nach Italien und / oder Catania wünschen - wir helfen Ihnen gerne weiter.
Reiseleitung
Dr. Evelyne Pradal ist ausgebildete Geologin und Vulkanologin mit der Leidenschaft, ihr Thema der Öffentlichkeit zu zeigen und zu lehren. Geboren in Aurillac, im Herzen der Auvergne, dem jüngsten Vulkangebiet Mitteleuropas, studierte sie im renommierten Zentrum für Geowissenschaften der Universität von Clermont-Ferrand, einem der führenden Forschungsinstitute Frankreichs auf dem Gebiet der Vulkanologie.
Ihre Forschung führte sie dazu, Vulkane in Mexiko, der Karibik, Äthiopien und anderen Gebieten zu studieren.
Nachdem sie 1990 ihren Doktor PHD gemacht hatte, arbeitete sie als Beraterin und Lehrerin in den Geowissenschaften. Sie organisierte Expeditionen und Studienreisen zu Vulkanen in Italien, Frankreich, der Karibik, Äthiopien und Tansania, um das Wissen und die Faszination von ihr Thema, die Schönheit unserer lebenden Erde, einem breiteren Publikum bekannt zu machen. Sie ist Co-Autorin des Buches "Au coeur des volcans" (2004, Ed. Fleurus - Geo Ados). Evelyne mit ihrem charmanten Lächeln trat 2010 unserem Team bei und leitet Reisen nach Äthiopien, in die Karibik und eine neue Studienreise in die Auvergne, ihre Heimat.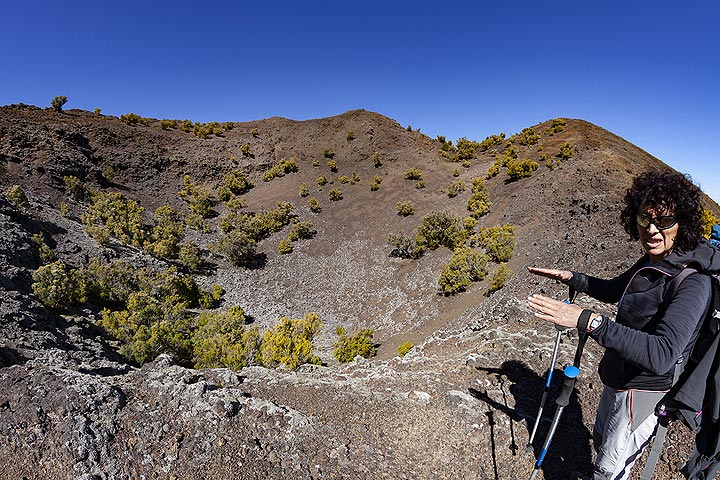 Evelyne Pradal am Erta Ale Vulkan.