Amiata
Schichtvulkan
Italien, 42.89°N / 11.63°E
Aktueller Status: (wahrscheinlich) erloschen (0 von 5)
Amiata is a lava dome complex located about 20 km NW of Lake Bolsena in the southern Tuscany region of Italy.
Typische Tätigkeit:
Explosiv
Ausbrüche:
200.000 years ago
Letzte Erdbeben in der Nähe:
Zeit
Stärke / Tiefe
Entfernung / Lage
Freitag, 5. August 2022 GMT (1 Beben)
5. Aug. 2022 11:56 (GMT +2)

(5. Aug. 2022 09:56 GMT)




1.8


6.5 km
20 km (12 mi)
11 km südwestlich von Chiusi Scalo, Province of Siena, Toskana, Italien
Donnerstag, 28. Juli 2022 GMT (1 Beben)
28. Jul. 2022 12:55 (GMT +2)

(28. Jul. 2022 10:55 GMT)




1.8


6.1 km
27 km (17 mi)
30 km südöstlich von Siena, Toskana, Italien
Beschreibung
The trachydacitic domes and associated lava flows, which were emplaced following the eruptions of rhyodacitic ignimbrites during the Pliocene, were erupted along regional ENE-WSW-trending faults. The largest of the domes is 1738-m-high Monte Amiata (La Vetta), a compound lava dome with a trachytic lava flow that extends to the east. A massive viscous trachydacitic lava flow, 5 km long and 4 km wide, is part of the basal complex and extends from beneath the southern base of Corno de Bellaria dome. Radiometric dates indicate that the Amiata complex formed during two major eruptive episodes about 300,000 and 200,000 years ago and that ages of the domes and lava flows decrease from the WSW to ENE. No eruptive activity has occurred at Amiata during the Holocene, but thermal activity continues at a producing geothermal field near the town of Bagnore, at the SW end of the dome complex.
Amiata Fotos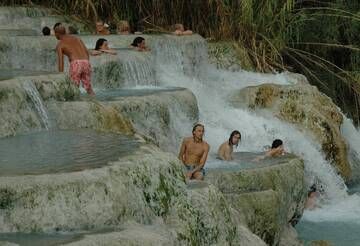 Saturnia, Sulfur Springs near volcano Monte Amiata, Toskana, Italy (Photo: WNomad)

Siehe auch: Sentinel hub | Landsat 8 | NASA FIRMS