Auckland Field Vulkan
Aktualisiert: 3. Okt. 2022 04:22 GMT
-
vulkanische Gebiet 260 m / 853 ft
North Island, New Zealand, -36.9°S / 174.87°E
Aktueller Status: normal / ruhend (1 von 5)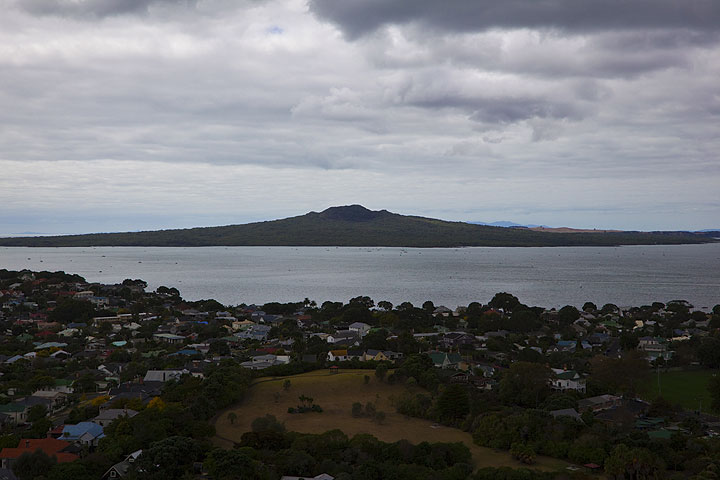 Rangitoto Island, part of the Auckland volcanic field, formed about 600 years ago during the largest eruption of the Auckland Field. View is from top of Mt Eden - an old crater close to the center of Auckland.
The Auckland Volcanic Field directly underlies the largest city of New Zealand and consists of more than 50 basaltic cones, maars and lava flows. It covers an elliptical area of 29 (N-S) x 16.5 (E-W) km and has been active for the past 140,000 years, during which is has produced about 7 cubic km of mostly basaltic lava. The last eruption was as recently as about 600 years ago when the cone of Rangitoto Island was formed. About 20 eruptions have occurred during the past 20,000 years, suggesting an average recurrence interval of approx. 1000 years.
Since eruptions could (and likely will) occur again in the future, it is a considerable hazard to Auckland city, especially since the time between first signs (seismic swarms, ground movements, gas emissions) to an eruption could be relatively short (weeks to months).
Interaktive Karte anzeigen
Typische Aktivität:
strombolian, effusive
Ausbrüche des Auckland Field:
1350 AD (?) (Rangitoto Island)
Letzte Erdbeben in der Nähe
No recent earthquakes
Beschreibung
The Auckland volcanic field has dominantly produced intraplate alkali basaltic to basantic rocks forming the northernmost of a group of Quaternary volcanic fields of the Auckland Intraplate Province.
Eruptive activity in the past 20,000 years
Many of the eruptions were phreatomagmatic (water-magma contact) and formed maars, while others formed cones where magma was isolated from ground water. Eruptions are believed to have lasted from 10-100 years.
Of the 19 eruptions known to have occurred within the past 20,000 years, only one eruptive center is known to have been active during the Holocene (Smith and Allen, 1993). The Rangitoto eruption, about 600 years ago, was the largest of the Auckland volcanic field and accounts for about half of the total volume of the volcanic field. It created the 6-km-wide Rangitoto Island, which consists of multiple scoria cones up to 260-m high that cap a low shield volcano with a broad apron of lava flows. The longest lava flow from Rangitoto reaches 10 km length and has a maximum thickness of 60 m.
---
Sources:
- Smithsonian / GVP volcano information
- Smith I E M, Allen S R, (1993) "Volcanic hazards at the Auckland Volcanic Field" New Zeal Ministry Civil Defense, Volc Hazards Inf Ser, 5: 1-34
Auckland Field Fotos
| | |
| --- | --- |
| Die Skyline von Auckland und seinem Yachthafen am Abend (Photo: Tom Pfeiffer) | nz_i29533.jpg (Photo: Tom Pfeiffer) |
| nz_i34312.jpg (Photo: Tom Pfeiffer) | nz_i29607.jpg (Photo: Tom Pfeiffer) |



See also: Sentinel hub | Landsat 8 | NASA FIRMS