Blue Lake Crater
Schichtvulkan 1230 m / 4,035 ft
Oregon (Canada and USA (mainland)), 44.41°N / -121.77°W
Aktueller Status: normal / ruhend (1 von 5)
Blue Lake is a series of at least 3 overlapping explosion craters (maars), located along a NE trend slightly east of the crest of the Cascade Range. The best-known crater, Blue Lake Crater contains a blue lake (800m x 300m) and is probably the youngest. It formed by an eruption about 1300 years ago. It lies immediately west of the popular recreation area of Suttle Lake.
Typische Tätigkeit:
Explosiv
Ausbrüche:
680 AD ± 200 years
Letzte Erdbeben in der Nähe:
Zeit
Stärke / Tiefe
Entfernung / Lage
Mittwoch, 25. Mai 2022 GMT (1 Beben)
25. Mai. 2022 15:28 (GMT -7)

(25. Mai. 2022 22:28 GMT)




1.2


1.5 km
47 km (29 mi)
Explosion - 30 Km SE of Cascadia, Oregon
Beschreibung
A chain of spatter cones 6 km to the SSW and about 4 km NE of Mount Washington aligned with Blue Lake crater. Its lavas are similar to those found at Blue Lake, suggesting that this row of vents may have been erupted at the same time and was fed by the same magma chamber.
Blue Lake Crater Fotos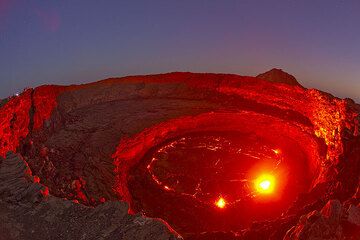 Der rote Schein der Lava beleuchtet die runden Kraterwände im abendlichen blauen Zwilicht. Beobachter am linken Kraterrand. (Photo: Tom Pfeiffer)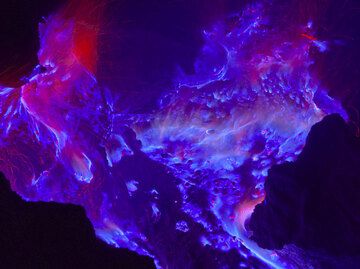 Blue flames. Breathing was only possible with a good gas mask and staying near the burning sulfur was only possible for a very short time. (Photo: Andi Rosadi)

Siehe auch: Sentinel hub | Landsat 8 | NASA FIRMS