Bristol Island Vulkan
Aktualisiert: 5. Dez. 2022 16:00 GMT
-
Stratovolcano 1100 m / 3,609 ft
United Kingdom, South Sandwich Is, -59.03°S / -26.58°W
Aktueller Status: normal / ruhend (1 von 5)
Last update: 20 Dez 2021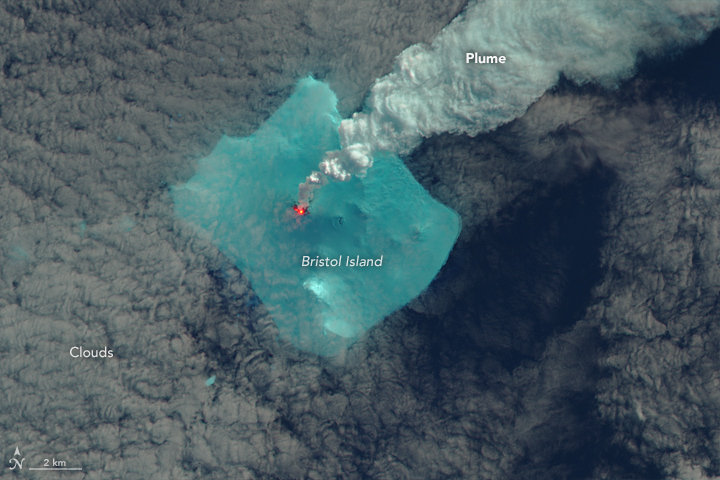 NASA Earth Observatory image of Bristol Island on 24 April 2016 by Jesse Allen, using Landsat data from the U.S. Geological Survey.
Bristol volcano forms an ice-capped, roughly rectangular island 12x14 km wide and is one of the largest of the South Sandwich Islands chain. Its highest peak is 1100 meters (3,609 feet) above sea level.
Although very active, it is one of the least studied and least known volcanoes in the world due to the remote location. Prior to its most recent eruption in 2016, detected on satellite imagery, the only other known eruption of Bristol Island occurred in 1956.
Interaktive Karte anzeigen
Typische Aktivität:
unspecified
Ausbrüche des Bristol Island:
2016, 1956
Letzte Erdbeben in der Nähe
No recent earthquakes
Beschreibung
The 9 x 10 km Bristol Island near the southern end of the South Sandwich arc lies across Fortser's Passage from the Southern Thule Islands and forms one of the largest islands of the chain. Largely glacier-covered, it contains a horseshoe-shaped ridge at the interior extending northward from the highest peak, 1100-m-high Mount Darnley. A steep-sided flank cone or lava dome, Havfruen Peak, is located on the east side, and a young crater and fissure are on the west flank.
Three large sea stacks lying off Turmoil Point at the western tip of the island may be remnants of an older now-eroded volcanic center. Both summit and flank vents on Bristol Island have been active during historical time. The latest eruption, during 1956, originated from the west-flank crater, and deposited cinder over the icecap. The extensive icecap on Bristol Island and the difficulty of landing make it the least explored of the South Sandwich Islands.
---
Smithsonian / GVP volcano information


See also: Sentinel hub | Landsat 8 | NASA FIRMS