Cay
Schichtvulkan 2090 m / 6,857 ft
Argentinien/Chile (Süden) (Südamerika), -45.06°S / -72.98°W
Aktueller Status: normal / ruhend (1 von 5)
Volcán Cay is a probably still active stratovolcano in southern Chile, 15 km NE of Maca volcano and NW of the town of Puerto Aisén. Like Maca and Hudson volcanoes, Cay is one of the large composite central volcanoes in the South Andean Volcanic Zone.
Cay volcano is basaltic and dacitic in composition. It contains an explosion crater open to the east, and about a half dozen explosion craters and pyroclastic cones along a fissure trending SW of the summit.
Another 10 basaltic cinder cones are located along a second parallel fissure 5 km to the SE, which is part of the major regional Liquiñe-Ofqui fault zone.
Typische Tätigkeit:
explosive
Ausbrüche:
none in historic times
Letzte Erdbeben in der Nähe:
Keine jüngeren Beben
Beschreibung
The volcanoes of the South Andean Volcanic Zone are typically calkalkaline
and the result of the subduction of the Nazca Plate under the South America Plate. Cay volcano is located between the Guafo and Guamblin fracture zones.

Sources:
- Smithsonian / GVP volcano information
- D'Orazio et al (2003) "The Quaternary calc-alkaline volcanism of the Patagonian Andes close to the Chile triple junction: geochemistry and petrogenesis of volcanic rocks from the Cay and Maca volcanoes (~45.8°S, Chile)", Journal of South American Earth Sciences, Volume 16, Issue 4, Pages 219-242
Cay Fotos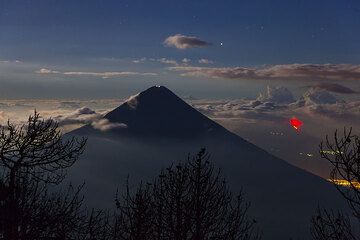 Agua volcano near Antigua, Guatemala, with erupting Pacaya in the right background (Photo: Tom Pfeiffer)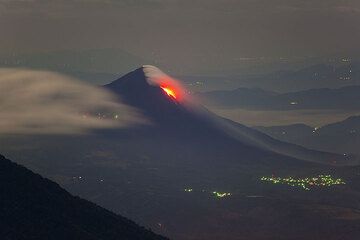 Der Pacaya Vulkan mit seinen aktiven Lavaströmen vom Acatenango aus gesehen. (Photo: Tom Pfeiffer)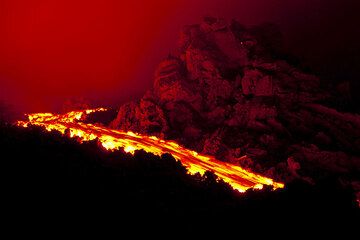 Ein Lavastrom am Pacaya (Photo: Tom Pfeiffer)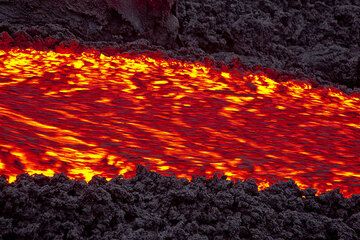 Zoom auf den Lavastrom (Photo: Tom Pfeiffer)

Siehe auch: Sentinel hub | Landsat 8 | NASA FIRMS