Damavand
Schichtvulkan 5670 m / 18,602 ft
Mazandaran Province, Iran, 35.95°N / 52.11°E
Aktueller Status: normal / ruhend (1 von 5)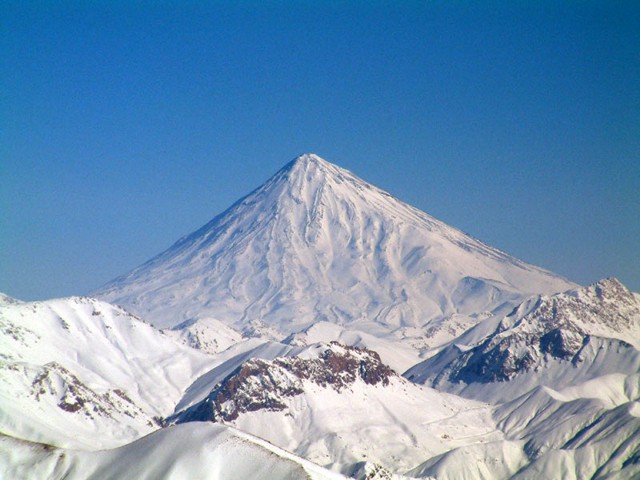 Conical snow-capped Damavand volcano is the highest volcano in the Middle East. It towers dramatically 70 km to the NE above Iran's capital city of Tehran. Activity at the 5670-m-high stratovolcano has been dominated by lava effusion. Young lava flows erupted from the summit vent blanket the western side of the volcano, and the youngest dated lava flows were erupted about 7000 years ago. Photo by Arad Mojtahedi, 2006 (http://en.wikipedia.org/wiki/Image:Damavand_in_winter.jpg)
Damavand volcano is a majestic stratovolcano located 70 km NE of Tehran and 70 km south of the Caspian Sea. Mt Damavand is the highest peak in the Middle East and the second highest volcano in Asia (after Kunlun volcano in Tibet).
Damavand last erupted about 7,300 years ago. There are no historical eruptions, but fumaroles at the summit crater suggest that the volcano is still active.
Typische Tätigkeit:
effusiv
Ausbrüche:
5350 BC ± 200 years
Letzte Erdbeben in der Nähe:
Keine jüngeren Beben
Beschreibung
Damavand is located on the tectonically active thrust and fold belt of the Alborz Mountains.
It is a massive stratovolcano with a volume of about 400 cubic kilometers and consists of a younger cone that was constructed during the past 600,000 years above an older, 1.78 million years old edifice, remnants of which were previously thought to be part of a caldera.
Damavand has onlyu few flank vents. Most activity has been from the summit crater, which has erupted a series of radial lava flows, mostly of trachyandesite composition. Most eruptions of Damavand seen to have been effusive, and only one significant explosive dposit is known, a welded ignimbrite that was produced about about 280,000 years ago.
The latest activity occurred about 7300 years ago and produced lava flows from the summit crater that cover the western flank.



Siehe auch: Sentinel hub | Landsat 8 | NASA FIRMS