Great mag. 8.2 earthquake - 79km WNW of Iquique, Chile on Tuesday, 1 April 2014
Earthquake waves are fast, but still take time: This is the seismic signal showing the Chile's earthquake waves arriving at one of Etna's seismic stations approx. 7000 miles (11,000 km) away. It took the (fastest P-waves) about 30 minutes to travel almost half of the globe after the quake occurred.
The magnitude 8.2 quakes occurred off shore the Tarapace coast, about 99 km NW of the
city Iquique. A tsunami alarm was issued, and the coastal areas were evacuated. Fortunately, no large tsunami was triggered by the quake (which would have had the power to generate one).
At least 5 people were reported dead and significant damage has occurred in the coastal towns, but much less than what could have been expected had the quake occurred under land or closer to the coast.


According to the German magazine "Focus"
300 prisoners used the chaos resulting from the quake to escape.
Numerous aftershocks have been occurring including a strong magnitude 7.6 quake. Many more aftershocks will likely occur during the coming weeks and months.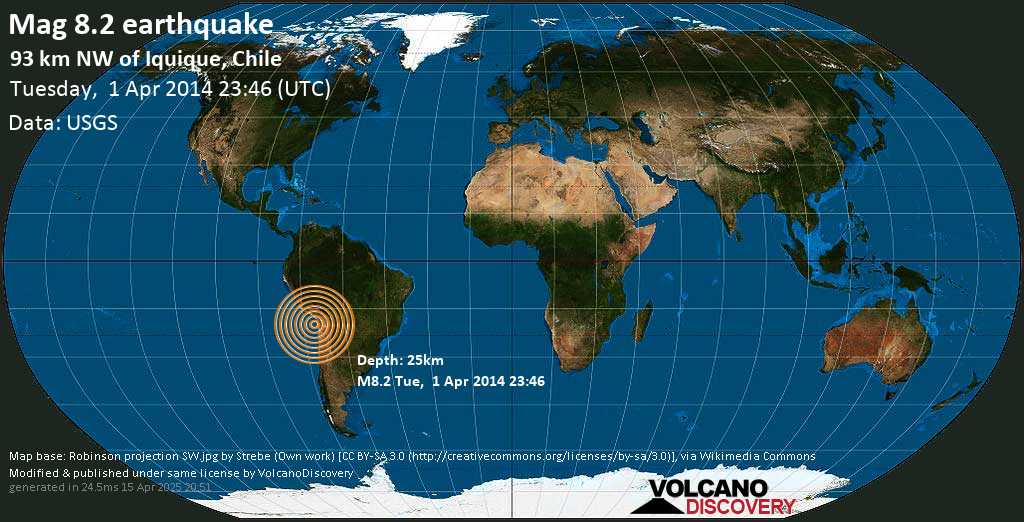 1. Apr. 23:56 UTC: Erste Meldung: USGS nach 9 Minuten.
Datum und Zeit (Weltzeit): Dienstag, 1. April 2014 23:46 UTC
Ortszeit am Epizentrum:
Tuesday, April 01, 2014 18:46:46
Magnitude (Stärke): 8.2
Tiefe des Erdbebenherds: 20.1 km
Epizentrum geog. Breite / Länge: 19,6416°S / 70,8171°W
(
Chile
)
Nächstgelegener Vulkan:
Puchuldiza
(196 km / 122 mi)
Orte und Städte in der Nähe:
94 km NW von Iquique
(pop: 227,500)
141 km SW von Arica
(pop: 186,000)
156 km SW von Los Palos
(pop: 200)
158 km SW von Rancho Grande
(pop: 100)
190 km SW von Tacna
(pop: 280,100)
1537 km N von Santiago
(pop: 4,837,300)
Primäre Datenquelle:
USGS
Geschätzte Erdbebenenergie: 1,3 x 10
17
joules (34970 gigawatt hours, equivalent to 3 x 10
7
tons of TNT or 1880,6 atomic bombs!) [
mehr dazu
]
Erdbebendaten von verschiedenen Agenturen im Vergleich
Info: Je mehr verschiedene Agenturen das gleiche Beben angeben, desto verlässlicher sind die Daten und umso genauer kann man einen Mittelwert zu Magnitude, Tiefe etc ableiten. Es dauert normalerweise einige Stunden, bis die seismischen Daten präzise ausgewertet worden sind und die Angaben zuverlässige Präzision besitzen. Dies führt oft dazu, dass Magnitude und andere Daten in den ersten Stunden immer wieder nach oben oder unten korrigiert werden.
Datum / Zeit
Mag. / Tiefe
Ort
Quelle
Tuesday, April 01, 2014 18:46:46

(1 Apr 23:46:46 UTC)

M 8.2 / 20.1 km
95km NW of Iquique, Chile
USGS
Tue, 1 Apr 23:46 UTC
M 8.1 / 34 km
Near Coast of Northern Chile
GFZ
Tue, 1 Apr 23:46 UTC
M 8.0 / 33 km
OFFSHORE TARAPACA, CHILE
EMSC
Tue, 1 Apr 23:46 UTC
M 6.9 / 10 km
Null
GeoAu
Tue, 1 Apr 23:46 UTC
M 8.2 / 20 km
NW of Iquique, Chile
GeoAu
01/04/2014 18:46:47

(1 Apr 23:46:47 UTC)

M 8.2 / 20 km
Peru
IGP
(shakemap: USGS)
Erfahrungsberichte von Nutzern zu diesem Erdbeben (14)
Nachbeben zum 8.2 Beben 95km NW of Iquique, Chile am Tue, 1 Apr 23h46
Mehr Infos dazu
Liste der Nachbeben, jüngste zuerst (1047 Beben):
Earlier earthquakes in the same area since 1900
Schweres Erdbeben der Stärke 8.2 - 95km NW of Iquique, Chile am Dienstag, 01. Apr. 2014
Hinweis: auf Datum / Weltzeit klicken, um nach Zeitpunkt zu sortieren.

Datum / Weltzeit

|

Mag

|

Tiefe

|

Alter

|

Entfernung

| Details

11 Nov 1922 04:32

|

8.5

|

70km / 43mi

|

vor 98 Jahren

|

967km / 601mi

| Atacama, Chile

23 Jun 2001 20:33

|

8.4

|

33km / 21mi

|

vor 19 Jahren

|

480km / 298mi

| Near the Coast of Southern Peru

09 Jun 1994 00:33

|

8.2

|

631km / 392mi

|

vor 26 Jahren

|

733km / 455mi

| La Paz, Bolivia

09 Dez 1950 21:38

|

8.2

|

114km / 71mi

|

vor 70 Jahren

|

568km / 353mi

| Antofagasta, Chile

24 Aug 1942 22:50

|

8.1

|

30km / 19mi

|

vor 78 Jahren

|

677km / 421mi

| Central Peru

15 Aug 2007 23:40

|

8.0

|

39km / 24mi

|

vor 13 Jahren

|

930km / 578mi

| Near the Coast of Central Peru

30 Jul 1995 05:11

|

8.0

|

46km / 28mi

|

vor 25 Jahren

|

415km / 258mi

| Antofagasta, Chile

13 Jun 2005 22:44

|

7.8

|

116km / 72mi

|

vor 15 Jahren

|

174km / 108mi

| Tarapaca, Chile

04 Dez 1918 11:47

|

7.8

|

40km / 25mi

|

vor 102 Jahren

|

767km / 477mi

| Atacama, Chile

14 Nov 2007 15:40

|

7.7

|

40km / 25mi

|

vor 13 Jahren

|

305km / 190mi

| Antofagasta, Chile

Alle anzeigen
Karte früherer Beben
Mehr auf VolcanoDiscovery