Strong mag. 6.0 earthquake - Tanzania on Wednesday, 12 August 2020 - information
-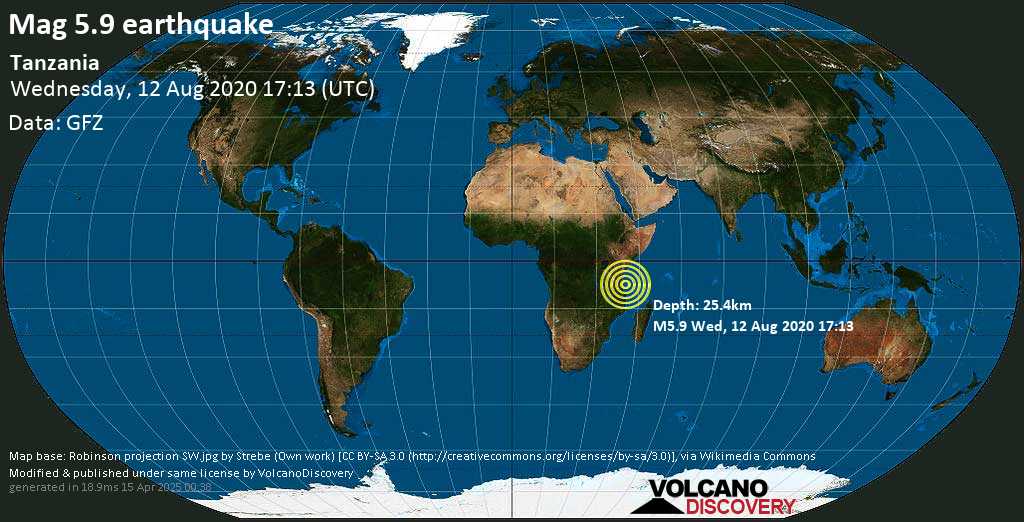 Starkes Magnitude 6.0 Erdbeben in 25 km Tiefe
12 Aug 17:22 UTC: Erste Meldung: GFZ nach 9 Minuten.
Aug 12 17:24: Magnitude neu berechnet von 5.9 auf 6.0.
Erdbebenherdtiefe neu berechnet von 10.0 auf 25.0 km.
Update Thu, 13 Aug 2020, 08:30
Quake was strongest in region since at least 2016, but no significant damage
User-reports with location and shaking intensity
Luckily, even after 15 hours since the magnitude 6.0 earthquake struck near Tanzania's coast last night, there are no reports of serious damage or injuries. Had the quake occurred closer to the shore, it probably would have had a much more severe outcome.
USGS models estimates that almost 9 million people felt the earthquake, mostly as weak to mild shaking, while 59,000 people in the areas closest to the epicenter felt it at moderate intensity. This fits nicely into the user-generated shake map, based on the more than 800 reports we received so far.
Last night's tremor was the strongest earthquake in the region since 10 September 2016, when a
similarly strong earthquake
hit northwest Tanzania, killing at least 17 people and injuring more than 400.
Update Wed, 12 Aug 2020, 17:56
People near the epicenter reported that the quake came in two waves; first there was "around 8 to 10 seconds of vibration and then a 2 second long shock", a user told us.
Within 30 minutes, more than 200 reports have come in so far. The interactive map below plots location and reported intensity, which gives a good idea about the impact of the quake. So far, there are no reports of major damage or injuries, fortunately.
Earthquake data:
Datum und Zeit (Weltzeit): 12 Aug 2020 17:13:17 UTC -
Magnitude (Stärke): 6
Tiefe des Erdbebenherds: 25.0 km
Epizentrum geog. Breite / Länge: 7.37°S / 39.85°E
(
Indischer Ozean
,
Tansania
)
Orte und Städte in der Nähe:
64 km NNE von Kilindoni (Mafia)
(pop: 12,400) -->
Erdbeben in der Nähe!
73 km ESE von Vikindu (Mkuranga)
(pop: 23,300) -->
Erdbeben in der Nähe!
76 km ESE von Mkwanga (Mkuranga)
(pop: 28,000) -->
Erdbeben in der Nähe!
88 km SE von Daressalam
(pop: 2,698,700) -->
Erdbeben in der Nähe!
92 km ENE von Bungu (Rufiji)
(pop: 27,900) -->
Erdbeben in der Nähe!
108 km ENE von Kibiti (Rufiji)
(pop: 30,200) -->
Erdbeben in der Nähe!
123 km ESE von Kibaha
(pop: 23,700) -->
Erdbeben in der Nähe!
147 km SE von Bagamoyo
(pop: 82,400) -->
Erdbeben in der Nähe!
152 km SSE von Sansibar-Stadt
(pop: 403,700) -->
Erdbeben in der Nähe!
473 km ESE von Dodoma
(pop: 180,500) -->
Erdbeben in der Nähe!
Primäre Datenquelle:
GFZ
(Helmholtz-Zentrum Potsdam, Deutsches GeoForschungsZentrum)
Geschätzte Erdbebenenergie: 6.3 x 10
13
joules (17.5 gigawatt hours, equivalent to 15080 tons of TNT or 0.9 atomic bombs!)
Mehr Infos
Erdbebendaten von verschiedenen Agenturen im Vergleich
Info: Je mehr verschiedene Agenturen das gleiche Beben angeben, desto verlässlicher sind die Daten und umso genauer kann man einen Mittelwert zu Magnitude, Tiefe etc ableiten. Es dauert normalerweise einige Stunden, bis die seismischen Daten präzise ausgewertet worden sind und die Angaben zuverlässige Präzision besitzen. Dies führt oft dazu, dass Magnitude und andere Daten in den ersten Stunden immer wieder nach oben oder unten korrigiert werden.
| | | | |
| --- | --- | --- | --- |
| Magnitude | Tiefe | Ort | Quelle |
| M 6.0 | 25 km | Tanzania | GFZ |
| M 6.0 | 15 km | Tanzania | EMSC |
| M 5.9 | 10 km | Tanzania | BMKG |
| M 6.0 | 0.8 km | Tanzania [Sea] | INGV |
| M 5.9 | 10 km | Tanzania | GeoAu |
| M 6.0 | 16 km | 66 km ESE of Vikindu, Tanzania | USGS |
Erfahrungsberichte von Nutzern zu diesem Erdbeben (1030)
Nachbeben
Mehr Infos dazu
Liste der Nachbeben, jüngste zuerst (2 Beben):
06 Oct 2020 19:11 UTC

|

M 4.6

|

10 km (6.2 mi) depth

|

11 km (7 mi) distance

| USGS | Details

13 Aug 2020 14:54 UTC

|

M 5.1

|

10 km (6.2 mi) depth

|

12 km (8 mi) distance

| GeoAu | Details
Earlier earthquakes in the same area since 1900
Hinweis: auf Datum / Weltzeit klicken, um nach Zeitpunkt zu sortieren.

Datum / Weltzeit

|

Mag

|

Tiefe

|

Alter

|

Entfernung

| Details

08 Dec 2007 19:55

|

5.6

|

6km / 3.7mi

|

vor 13 Jahren

|

244km / 152mi

| 15 km SW of Kisanga, Morogoro Rural, Tanzania

04 Jan 1977 20:44

|

5.2

|

33km / 21mi

|

vor 44 Jahren

|

147km / 91mi

| Kisarawe District, 56 km NW of Kibiti, Rufiji District, Pwani, Tanzania

15 Jan 2005 05:13

|

5.0

|

10km / 6.2mi

|

vor 16 Jahren

|

168km / 105mi

| Kaskazini B, Zanzibar North, 19 km N of Занзибар, Tanzania

28 Apr 1986 18:09

|

5.0

|

10km / 6.2mi

|

vor 35 Jahren

|

175km / 109mi

| Kilwa District, Lindi, 79 km S of Ikwiriri, Rufiji District, Pwani, Tanzania

06 Apr 1999 04:16

|

4.9

|

10km / 6.2mi

|

vor 22 Jahren

|

134km / 83mi

| Kilwa District, Lindi, 86 km SE of Kibiti, Rufiji District, Pwani, Tanzania

08 Sep 2015 23:43

|

4.8

|

10km / 6.2mi

|

vor 5 Jahren

|

25km / 16mi

| Indian Ocean, 72 km E of Vikindu, Mkuranga, Pwani, Tanzania

10 Jun 2011 08:28

|

4.8

|

10km / 6.2mi

|

vor 10 Jahren

|

40km / 25mi

| Indian Ocean, 49 km SE of Дар-эс-Салам, Tanzania

25 Feb 1992 20:10

|

4.5

|

10km / 6.2mi

|

vor 29 Jahren

|

52km / 32mi

| Indian Ocean, 70 km E of Vikindu, Mkuranga, Pwani, Tanzania

09 Jun 1997 02:38

|

4.4

|

10km / 6.2mi

|

vor 24 Jahren

|

123km / 76mi

| Indian Ocean, 30 km SE of Занзибар, Tanzania

13 Apr 1983 02:13

|

4.1

|

33km / 21mi

|

vor 38 Jahren

|

61km / 38mi

| Indian Ocean, 87 km NE of Tshole-Shamba Island, Pwani, Tanzania
Karte früherer Beben