Starkes Erdbeben in Nordchile, Magnitude 6.3, 51 km NW von De Quillagua, Freitag 11.9.2020 - Infos
-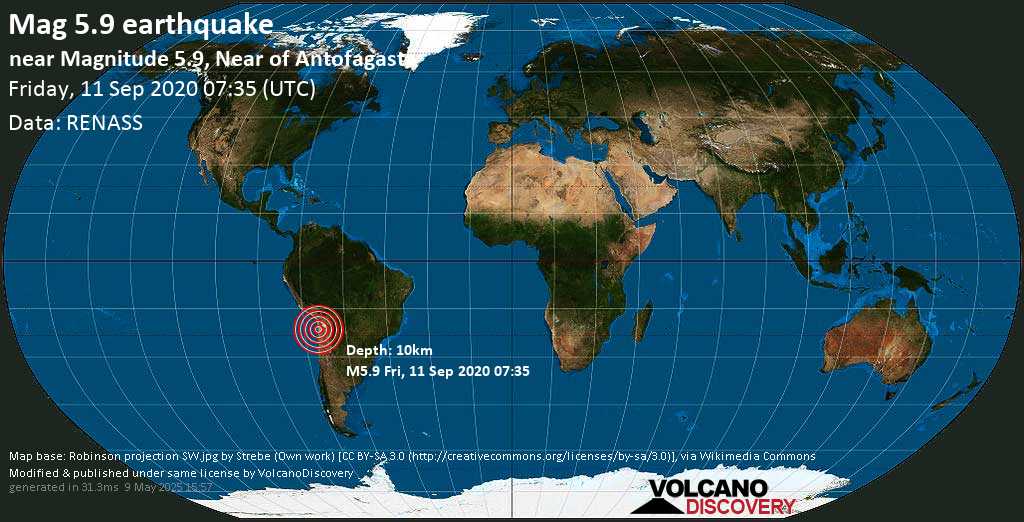 Starkes Erdbeben der Stärke 6.3 in 54 km Tiefe am 11. Sep 2020 um 07:35 GMT
11. Sep. 07:40 UTC: Erste Meldung: GFZ nach 4 Minuten.
11. Sep. 07:42: Magnitude neu berechnet von 6.8 auf 6.5. Erdbebenherdtiefe neu berechnet von 30.0 auf 51.0 km (von 18.6 auf 32 mi). Epizentrum korrigiert um 43 km (27 mi) nach O.

11. Sep. 08:04: Erdbebenherdtiefe neu berechnet von 54.2 auf 54.4 km (von 34 auf 34 mi).
Update Fri, 11 Sep 2020, 08:15
3rd large quake within 14 days
Recent quakes above magnitude 6 in Chile (past 14 days)
Today's earthquake is the second within a week and the 3rd of the recent series of larger earthquakes along Chile's western coast, following the
magnitude 7 quake north of Huasco on 1 Sep
and the similar
6.3 quake near Tongoy on 6 Sep
.
This clustering suggests that currently, stress accumulated along the continental margin where the Pacific Nazca plate descends eastwards under the South American plate is currently being released along neighboring segments. As a conclusion, if this trend continues, one could expect similar earthquakes either to the south or to the north of this region in a near future.
Update Fri, 11 Sep 2020, 08:03
Reports have started to arrive, indicating that the quake could be felt as weak shaking in more than 250 km distance. Fortunately, there are no major towns in the most affected areas and there are no reports of injuries or damages so far.
This is how a surveillance camera recorded the quake at Iquique, approx. 137 km distant from the epicenter:
#Sismo #Iquique pic.twitter.com/kBrF4u5kqt

— Pau Towers Sepúlveda (@Paulysation) September 11, 2020
Earthquake data:
Datum und Zeit (Weltzeit): 11 Sep 2020 07:35:56 UTC -
Ortszeit am Epizentrum:
04:35:56 11 sep 2020
Magnitude (Stärke): 6.3
Tiefe des Erdbebenherds: 54.4 km
Epizentrum geog. Breite / Länge: 21.363°S / 69.907°W
(
Chile
)
Nächstgelegener Vulkan:
Aucanquilcha
(136 km / 85 mi)
Orte und Städte in der Nähe:
86 km NNE von Tocopilla
(pop: 24,500)
130 km SSE von Iquique
(pop: 227,500)
158 km NW von Calama
(pop: 143,100)
246 km NW von San Pedro de Atacama
(pop: 2,000)
260 km N von Antofagasta
(pop: 309,800)
324 km S von Arica
(pop: 186,000)
374 km S von Tacna (Peru)
(pop: 280,100)
1347 km N von Santiago de Chile
(pop: 4,837,300)
Primäre Datenquelle:
GUG (U. Chile)
Geschätzte Erdbebenenergie: 1.8 x 10
14
joules (49.4 gigawatt hours, equivalent to 42502 tons of TNT or 2.7 atomic bombs!)
More info
Erdbebendaten von verschiedenen Agenturen im Vergleich
Info: Je mehr verschiedene Agenturen das gleiche Beben angeben, desto verlässlicher sind die Daten und umso genauer kann man einen Mittelwert zu Magnitude, Tiefe etc ableiten. Es dauert normalerweise einige Stunden, bis die seismischen Daten präzise ausgewertet worden sind und die Angaben zuverlässige Präzision besitzen. Dies führt oft dazu, dass Magnitude und andere Daten in den ersten Stunden immer wieder nach oben oder unten korrigiert werden.
| | | | |
| --- | --- | --- | --- |
| Magnitude | Tiefe | Ort | Quelle |
| M 6.3 | 54 km | 51 Km Al NO De Quillagua (Chile) | GUG (U. Chile) |
| M 6.3 | 58 km | CHILE (Argentina) | INPRES |
| M 6.3 | 45 km | Tarapaca, Chile | EMSC |
| M 6.6 | 42 km | Northern Chile | BMKG |
| M 6.3 | 51 km | 83 Km NNE of Tocopilla, Chile | USGS |
| M 6.3 | 42 km | Northern Chile | GeoAu |
| M 6.2 | 46 km | Northern Chile | GFZ |
| M 6.3 | 20 km | Northern Chile [Land: Chile] | INGV |
| M 6.3 | 16 km | Northern Chile | USP |
| M 6.2 | 41 km | 349 Km Al Sur De Tacna, Tacna - Tacna (Chile) | IGP |
Erfahrungsberichte von Nutzern zu diesem Erdbeben (63)
Nachbeben zum Stärke 6.3 - 130 km südlich von Iquique, Tarapacá, Chile, am Freitag, 11. Sep 2020 um 07:35 GMT
Mehr Infos dazu
Liste der Nachbeben, jüngste zuerst (191 Beben):
Earlier earthquakes in the same area since 1900
Starkes Erdbeben der Stärke 6.3 - 130 km südlich von Iquique, Tarapacá, Chile, am Freitag, 11. Sep 2020 um 07:35 GMT
Hinweis: auf Datum / Weltzeit klicken, um nach Zeitpunkt zu sortieren.

Datum / Weltzeit

|

Mag

|

Tiefe

|

Alter

|

Entfernung

| Details

11 Nov 1922 04:32

|

8.5

|

70km / 43mi

|

vor 98 Jahren

|

771km / 479mi

| Atacama, Chile

23 Jun 2001 20:33

|

8.4

|

33km / 21mi

|

vor 19 Jahren

|

690km / 429mi

| Near the Coast of Southern Peru

24 Nov 2015 22:48

|

8.2

|

unknown

|

vor 5 Jahren

|

777km / 483mi

| Southern Bolivia

01 Apr 2014 23:46

|

8.2

|

20km / 12mi

|

vor 7 Jahren

|

214km / 133mi

| 95km NW of Iquique, Chile

09 Jun 1994 00:33

|

8.2

|

631km / 392mi

|

vor 27 Jahren

|

873km / 542mi

| La Paz, Bolivia

09 Dec 1950 21:38

|

8.2

|

114km / 71mi

|

vor 70 Jahren

|

356km / 221mi

| Antofagasta, Chile

24 Aug 1942 22:50

|

8.1

|

30km / 19mi

|

vor 78 Jahren

|

887km / 551mi

| Central Peru

30 Jul 1995 05:11

|

8.0

|

46km / 28mi

|

vor 25 Jahren

|

223km / 139mi

| Antofagasta, Chile

13 Jun 2005 22:44

|

7.8

|

116km / 72mi

|

vor 15 Jahren

|

170km / 106mi

| Tarapaca, Chile

04 Dec 1918 11:47

|

7.8

|

40km / 25mi

|

vor 102 Jahren

|

580km / 360mi

| Atacama, Chile

Alle anzeigen
Karte früherer Beben
Mehr auf VolcanoDiscovery