Strong mag. 6.7 earthquake - Off Coast of Central Chile on Sunday, 27 December 2020 at 21:39 (GMT) - information
-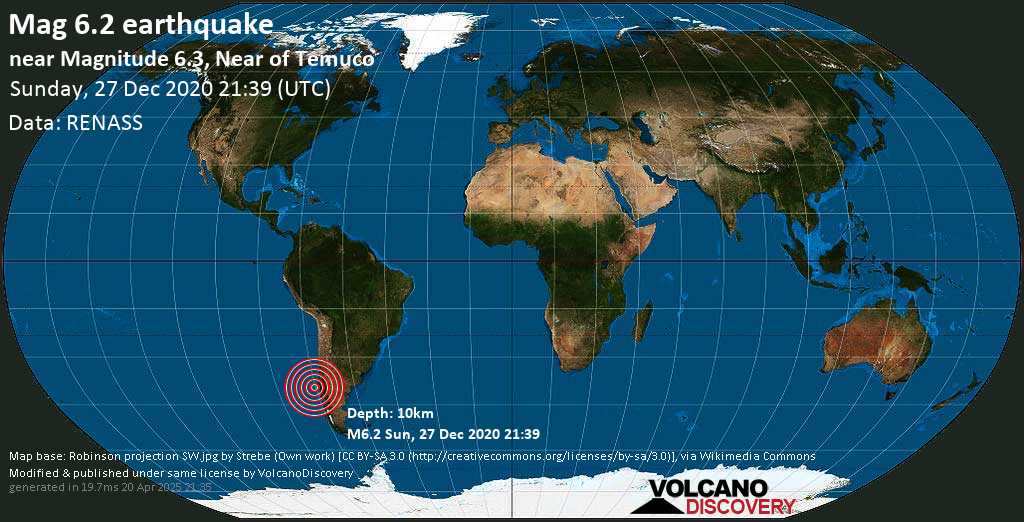 Sehr starkes Magnitude 6.7 Erdbeben in 27 km Tiefe
27. Dec. 21:43 UTC: Erste Meldung: GFZ nach 4 Minuten.
27. Dec. 21:45: Magnitude neu berechnet von 6.5 auf 6.4. Epizentrum korrigiert um 24 km (15 mi) nach O.

27. Dec. 22:04: Neue primäre Datenquelle: GUG (U. Chile)
Update Sun, 27 Dec 2020, 21:48
Moderates Erdbeben der Stärke 6.5 erschüttert Valdivia (Provincia de Valdivia, Los Rios Region), Chile
Starkes Erdbeben der Stärke 6.5 - South Pacific Ocean, 143 km nordwestlich von Valdivia, Provincia de Valdivia, Los Rios Region, Chile, am Sonntag, 27. Dez 2020 um 16:39 Lokalzeit
In Chile bebte heute die Erde mit einer Stärke von 6.5. Laut Angaben des Geoforschungszentrums in Potsdam (GFZ) ereignete sich das Beben am Sonntag, dem 27. Dezember 2020, nachmittags um 16:39 Lokalzeit 143 km nordwestlich von der Stadt Valdivia (Provincia de Valdivia, Los Rios Region) in einer Tiefe von 10 km. Die Stärke, genaue Lage des Epizentrums und Erdbebentiefe können in den nächsten Stunden noch korrigiert werden, während Seismologen die Daten manuell auswerten und ihre Berechnungen verfeinern.
Eine zweite Agentur, das European-Mediterranean Seismological Centre (EMSC), gab das Erdbeben abweichend mit einer Stärke von 6.8 an. Eine dritte Agentur, der United States Geological Survey (USGS), gab die Stärke des Bebens als 6.8 an.
Anhand der vorläufigen seismischen Daten müsste das Erdbeben von fast allen in der Nähe des Epizentrums gespürt worden sein. Es ist nicht auszuschließen, dass es zu geringen bis mittleren Schäden an Häusern und anderen Gebäuden gekommen ist.
Folgende Orte in der Nähe des Epizentrums wurden wahrscheinlich vom Beben betroffen: Valdivia (133,400 Einw. in 143 km Entfernung, mäßige Erschütterungen zu erwarten), Las Animas (30,000 Einw. in 145 km Entfernung, mäßige Erschütterungen) und Carahue (11,900 Einw. in 154 km Entfernung, mäßige Erschütterungen).
Wir werden diesen Artikel aktualisieren, wenn es wichtige neue Nachrichten gibt. Wenn Sie sich zum Zeitpunkt des Bebens in der Gegend befunden haben, bitten wir Sie, uns Ihren Erfahrungsbericht über unsere App oder Webseite zuzuschicken. Erfahrungsberichte aus erster Hand sind zum besseren Verständnis und zum Überblick der Lage von unschätzbarem Wert.
Earthquake data:
Datum und Zeit (Weltzeit): 27 Dec 2020 21:39:17 UTC -
Ortszeit am Epizentrum:
Sonntag, 27. Dez. 2020 16:39 (GMT -5)
Magnitude (Stärke): 6.7
Tiefe des Erdbebenherds: 26.5 km
Epizentrum geog. Breite / Länge: 39.331°S / 74.821°W
(
South Pacific Ocean
,
Chile
)
Nächstgelegener Vulkan:
Mocho-Choshuenco
(248 km / 154 mi)
Orte und Städte in der Nähe:
129 km WNW von Vuelta de la Zorra
(pop: 50) -->
Erdbeben in der Nähe!
145 km WNW von Valdivia
(pop: 133,400) -->
Erdbeben in der Nähe!
147 km WNW von Las Animas
(pop: 30,000) -->
Erdbeben in der Nähe!
200 km NW von Osorno
(pop: 135,800) -->
Erdbeben in der Nähe!
203 km WSW von Temuco
(pop: 238,100) -->
Erdbeben in der Nähe!
286 km NW von Puerto Montt
(pop: 160,100) -->
Erdbeben in der Nähe!
295 km SSW von Coronel
(pop: 92,900) -->
Erdbeben in der Nähe!
298 km SW von Los Angeles
(pop: 125,400) -->
Erdbeben in der Nähe!
326 km SSW von Talcahuano
(pop: 253,000) -->
Erdbeben in der Nähe!
752 km SSW von Santiago de Chile
(pop: 4,837,300) -->
Erdbeben in der Nähe!
Wetter am Epizentrum zum Zeitpunkt des Bebens:
Clear Sky
18.4°C
(65 F), humidity: 88%, wind: 4 m/s (8 kts) from W
Primäre Datenquelle:
GUG (U. Chile)
Geschätzte Erdbebenenergie: 7.1 x 10
14
joules (197 gigawatt hours, equivalent to 1.7 x 10
5
tons of TNT or 10.6 atomic bombs!)
Mehr Infos
Erdbebendaten von verschiedenen Agenturen im Vergleich
Info: Je mehr verschiedene Agenturen das gleiche Beben angeben, desto verlässlicher sind die Daten und umso genauer kann man einen Mittelwert zu Magnitude, Tiefe etc ableiten. Es dauert normalerweise einige Stunden, bis die seismischen Daten präzise ausgewertet worden sind und die Angaben zuverlässige Präzision besitzen. Dies führt oft dazu, dass Magnitude und andere Daten in den ersten Stunden immer wieder nach oben oder unten korrigiert werden.
| | | | |
| --- | --- | --- | --- |
| Magnitude | Tiefe | Ort | Quelle |
| M 6.7 | 27 km | 144 Km Al O De Toltén, Chile | GUG (U. Chile) |
| M 6.7 | 10 km | 146 Km WNW of Corral, Chile | USGS |
| M 6.7 | 10 km | OFF COAST OF LOS LAGOS, CHILE | EMSC |
| M 6.8 | 17 km | Off Coast of Central Chile | GeoAu |
| M 6.6 | 9.8 km | Chile (Peruvian Point of View) [Sea] | INGV |
| M 6.7 | 10 km | Off Coast of Central Chile | GFZ |
| M 6.7 | 13 km | OCEANO PACIFICO (Argentina), Chile | INPRES |
| M 6.2 | 10 km | Off Coast of Central Chile | BMKG |
Erfahrungsberichte von Nutzern zu diesem Erdbeben (64)
Nachbeben
Mehr Infos dazu
Liste der Nachbeben, jüngste zuerst (103 Beben):
Earlier earthquakes in the same area since 1900
Hinweis: auf Datum / Weltzeit klicken, um nach Zeitpunkt zu sortieren.

Datum / Weltzeit

|

Mag

|

Tiefe

|

Alter

|

Entfernung

| Details

22 May 1960 19:11

|

9.5

|

25km / 16mi

|

vor 61 Jahren

|

180km / 112mi

| Arauco, 38 km S of Kanyete, Provincia de Arauco, Region del Biobio, Chile

21 May 1960 10:02

|

8.1

|

25km / 16mi

|

vor 61 Jahren

|

211km / 131mi

| 4.6 km SE of Kanyete, Provincia de Arauco, Region del Biobio, Chile

22 May 1960 18:56

|

7.8

|

25km / 16mi

|

vor 61 Jahren

|

209km / 130mi

| Malleco Province, 41 km SW of Angol, Provincia de Malleco, Araucania, Chile

10 May 1975 14:27

|

7.7

|

6km / 3.7mi

|

vor 46 Jahren

|

188km / 117mi

| Arauco, Region del Biobio, 83 km NW of Temuco, Provincia de Cautin, Araucania, Chile

27 Feb 2010 08:01

|

7.4

|

35km / 22mi

|

vor 11 Jahren

|

174km / 108mi

| South Pacific Ocean, 124 km W of Lebu, Provincia de Arauco, Region del Biobio, Chile

01 Nov 1960 08:45

|

7.4

|

20km / 12.4mi

|

vor 60 Jahren

|

98km / 61mi

| South Pacific Ocean, 214 km W of Temuco, Provincia de Cautin, Araucania, Chile

02 Jan 2011 20:20

|

7.2

|

24km / 15mi

|

vor 10 Jahren

|

169km / 105mi

| Malleco, Araucanía, 42 km N of Carahue, Provincia de Cautin, Araucania, Chile

18 Aug 1974 10:44

|

7.1

|

36km / 22mi

|

vor 47 Jahren

|

155km / 96mi

| Cautín Province, Region del Biobio, 79 km NW of Temuco, Provincia de Cautin, Araucania, Chile

14 Feb 1962 06:36

|

7.1

|

30km / 19mi

|

vor 59 Jahren

|

236km / 147mi

| Malleco, 16 km W of Angol, Provincia de Malleco, Araucania, Chile

22 May 1960 10:30

|

7.1

|

25km / 16mi

|

vor 61 Jahren

|

234km / 145mi

| Malleco Province, Region del Biobio, 27 km W of Angol, Provincia de Malleco, Araucania, Chile

Alle anzeigen
Karte früherer Beben