Leichtes Erdbeben der Stärke 4.1 - Greece am Montag, 10. Aug. 2020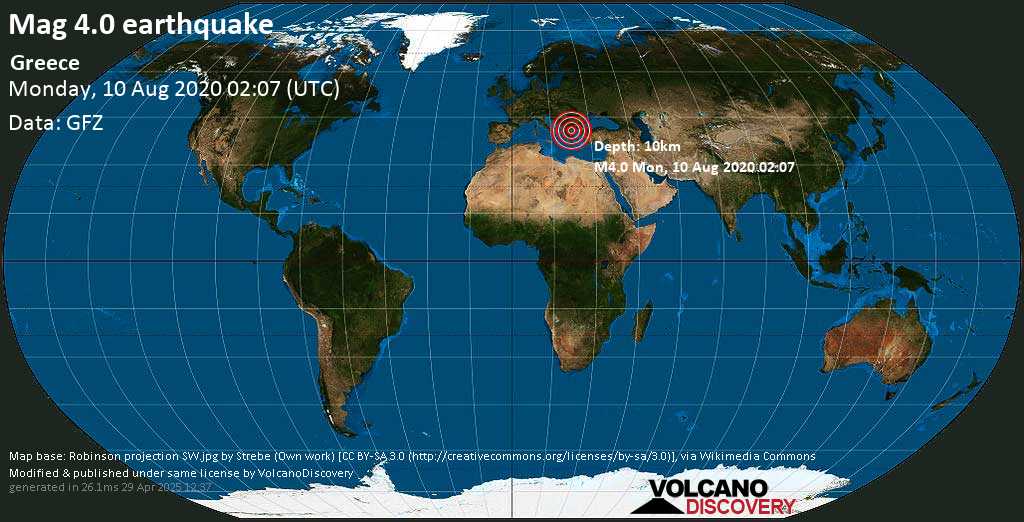 10 Aug 02:10 UTC: Erste Meldung: GFZ nach 2 Minuten.
Aug 10 02:15: Magnitude neu berechnet von 4.8 auf 4.1.
Erdbebenherdtiefe neu berechnet von 5.0 auf 10.0 km.
Datum und Zeit (Weltzeit): Montag, 10. August 2020 02:07 UTC
Magnitude (Stärke): 4.1
Tiefe des Erdbebenherds: 10.0 km
Epizentrum geog. Breite / Länge: 40,56°N / 22,71°E
(
Griechenland
)
Orte und Städte in der Nähe:
6 km SE von Néa Málgara
(pop: 2,500)
6 km SE von Kýmina
(pop: 3,800)
8 km SW von Chalástra
(pop: 7,400)
21 km SW von Thessaloníki
(pop: 354,300)
192 km SE von Skopje
(pop: 474,900)
300 km NW von Athens
(pop: 664,000)
Primäre Datenquelle:
GFZ
Geschätzte Erdbebenenergie: 8,9 x 10
10
joules (24,8 megawatt hours, equivalent to 21,3 tons of TNT) [
mehr dazu
]
Erdbebendaten von verschiedenen Agenturen im Vergleich
Info: Je mehr verschiedene Agenturen das gleiche Beben angeben, desto verlässlicher sind die Daten und umso genauer kann man einen Mittelwert zu Magnitude, Tiefe etc ableiten. Es dauert normalerweise einige Stunden, bis die seismischen Daten präzise ausgewertet worden sind und die Angaben zuverlässige Präzision besitzen. Dies führt oft dazu, dass Magnitude und andere Daten in den ersten Stunden immer wieder nach oben oder unten korrigiert werden.
| | | | |
| --- | --- | --- | --- |
| Datum / Zeit | Mag. / Tiefe | Ort | Quelle |
| Mon, 10 Aug 02:07 UTC | M 4.1 / 10 km | Greece | GFZ |
| Mon, 10 Aug 02:07 UTC | M 4.1 / 10 km | Greece | EMSC |
| Mon, 10 Aug 02:07 UTC | M 4.1 / 14 km | (Greece) | NOA |
| Mon, 10 Aug 02:07 UTC | M 4.2 / 18 km | Yunanistan (Greece) | KOERI-RETMC |
| Mon, 10 Aug 02:07 UTC | M 4.5 / 10 km | 5 km ENE of Tríkala, Greece | USGS |
Erfahrungsberichte von Nutzern zu diesem Erdbeben (88)