Starkes Magnitude 6.0 Erdbeben - South Pacific Ocean, 1346 km nordöstlich von Wellington, Neuseeland, am Dienstag, 18. Feb 1958 um 13:21 GMT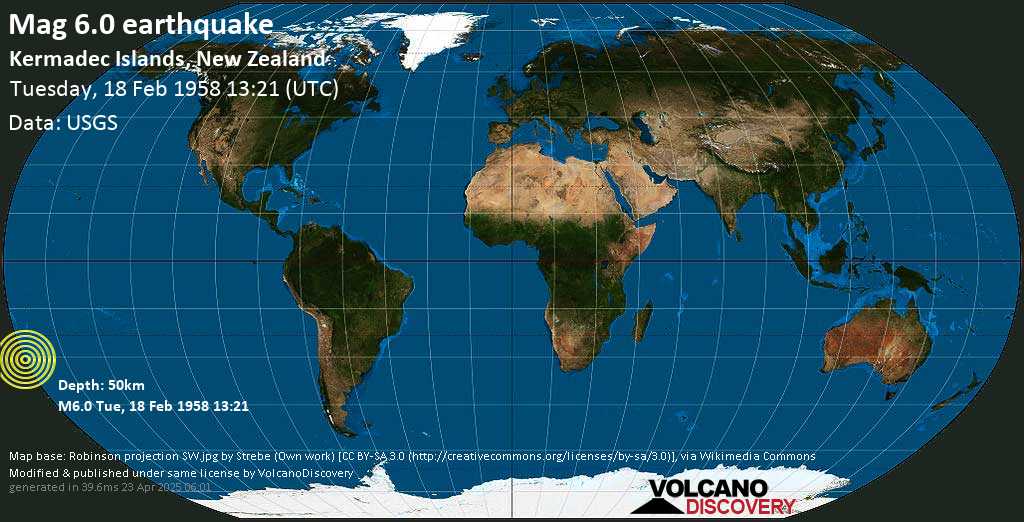 Starkes Magnitude 6.0 Erdbeben in 50 km Tiefe
Datum und Zeit (Weltzeit): 18 Feb 1958 13:21:29 UTC
Magnitude (Stärke): 6
Tiefe des Erdbebenherds: 50.0 km
Epizentrum geog. Breite / Länge: 30.478°S / 178.479°W
(
South Pacific Ocean
,
Neuseeland
)
Nächstgelegener Vulkan:
Curtis Island
(11 km / 7 mi)
Primäre Datenquelle:
USGS
(United States Geological Survey)
Geschätzte Erdbebenenergie: 6.3 x 10
13
joules (17.5 gigawatt hours, equivalent to 15080 tons of TNT or 0.9 atomic bombs!)
Mehr Infos
Erdbebendaten von verschiedenen Agenturen im Vergleich
Info: Je mehr verschiedene Agenturen das gleiche Beben angeben, desto verlässlicher sind die Daten und umso genauer kann man einen Mittelwert zu Magnitude, Tiefe etc ableiten. Es dauert normalerweise einige Stunden, bis die seismischen Daten präzise ausgewertet worden sind und die Angaben zuverlässige Präzision besitzen. Dies führt oft dazu, dass Magnitude und andere Daten in den ersten Stunden immer wieder nach oben oder unten korrigiert werden.
| | | | |
| --- | --- | --- | --- |
| Magnitude | Tiefe | Ort | Quelle |
| M 6.0 | 50 km | Kermadec Islands, New Zealand | USGS |
Note: for quakes of 2012 and earlier, our database often contains only records from USGS.
Erfahrungsberichte von Nutzern zu diesem Erdbeben
Bisland gibt es keine Erfahrungsberichte zu diesem Beben.
Wenn Sie es gespürt haben oder in der Nähe waren,
berichten Sie als erster darüber
!
Nachbeben
Mehr Infos dazu
Liste der Nachbeben, jüngste zuerst (0 Beben):
Bisher wurden keine keine Nachbeben aufgezeichnet.
Earlier earthquakes in the same area since 1900
Hinweis: auf Datum / Weltzeit klicken, um nach Zeitpunkt zu sortieren.

Datum / Weltzeit

|

Mag

|

Tiefe

|

Alter

|

Entfernung

| Details

01 May 1917 18:26

|

8.2

|

15km / 9.3mi

|

vor 104 Jahren

|

204km / 127mi

| South Pacific Ocean, New Zealand

02 Aug 1941 11:41

|

7.2

|

35km / 22mi

|

vor 80 Jahren

|

114km / 71mi

| South Pacific Ocean, 55 km SE of Sunday Island, New Zealand

17 Apr 1919 11:22

|

7.2

|

35km / 22mi

|

vor 102 Jahren

|

36km / 22mi

| South Pacific Ocean, New Zealand

14 Sep 1943 07:18

|

6.9

|

35km / 22mi

|

vor 78 Jahren

|

68km / 42mi

| South Pacific Ocean, 1395 km NE of Wellington, New Zealand

16 Sep 1941 21:39

|

6.9

|

70km / 43mi

|

vor 80 Jahren

|

184km / 114mi

| South Pacific Ocean, 31 km N of Napier Island, New Zealand

11 Jul 1943 02:10

|

6.7

|

15km / 9.3mi

|

vor 78 Jahren

|

250km / 155mi

| South Pacific Ocean, 1152 km NE of Wellington, New Zealand

26 Dec 1936 22:52

|

6.7

|

35km / 22mi

|

vor 84 Jahren

|

47km / 29mi

| South Pacific Ocean, 1337 km NE of Wellington, New Zealand

19 Feb 1954 19:07

|

6.6

|

25km / 16mi

|

vor 67 Jahren

|

109km / 68mi

| South Pacific Ocean, 1416 km NE of Веллингтон, New Zealand

24 Nov 1941 21:46

|

6.6

|

35km / 22mi

|

vor 79 Jahren

|

243km / 151mi

| South Pacific Ocean, 1588 km NE of Веллингтон, New Zealand

14 Jul 1957 08:10

|

6.5

|

50km / 31mi

|

vor 64 Jahren

|

97km / 61mi

| South Pacific Ocean, 1436 km NE of Wellington, New Zealand

Alle anzeigen
Karte früherer Beben