Leichtes Erdbeben der Stärke 4.2 - Near East Coast Of Honshu, Japan am Samstag, 12. Sep. 2020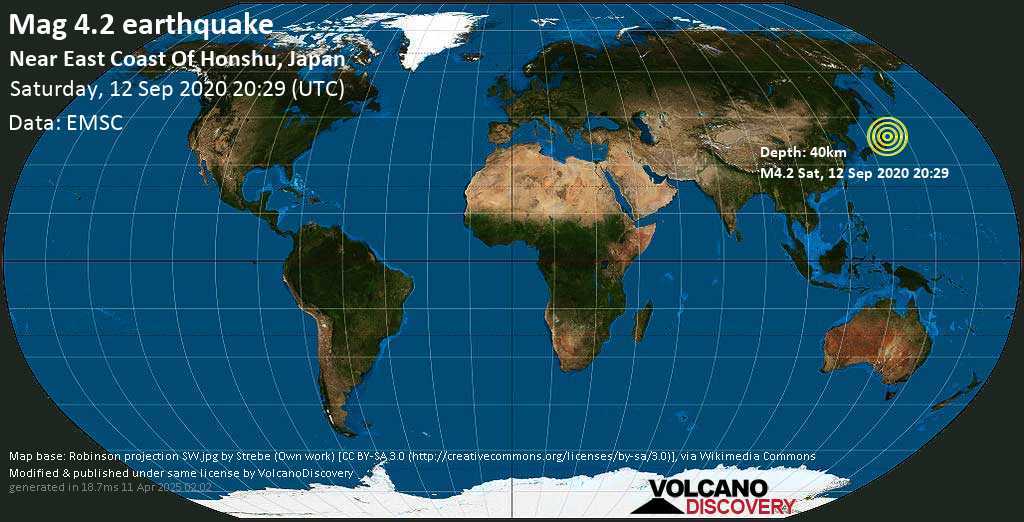 12. Sep. 20:41 UTC: Erste Meldung: EMSC nach 12 Minuten.
Datum und Zeit (Weltzeit): Samstag, 12. September 2020 20:29 UTC
Magnitude (Stärke): 4.2
Tiefe des Erdbebenherds: 40.0 km
Epizentrum geog. Breite / Länge: 38,5°N / 142,2°E
(
Japan
)
Nächstgelegener Vulkan:
Narugo
(130 km / 81 mi)
Orte und Städte in der Nähe:
76 km SE von Ōfunato
(pop: 35,400)
79 km E von Ishinomaki
(pop: 117,200)
86 km E von Yamoto
(pop: 32,000)
119 km NE von Sendai
(pop: 1,063,100)
199 km NE von Iwaki
(pop: 357,300)
384 km NE von Tokyo
(pop: 8,336,600)
Primäre Datenquelle:
EMSC
Geschätzte Erdbebenenergie: 1,3 x 10
11
joules (35 megawatt hours, equivalent to 30,1 tons of TNT) [
mehr dazu
]
Erdbebendaten von verschiedenen Agenturen im Vergleich
Info: Je mehr verschiedene Agenturen das gleiche Beben angeben, desto verlässlicher sind die Daten und umso genauer kann man einen Mittelwert zu Magnitude, Tiefe etc ableiten. Es dauert normalerweise einige Stunden, bis die seismischen Daten präzise ausgewertet worden sind und die Angaben zuverlässige Präzision besitzen. Dies führt oft dazu, dass Magnitude und andere Daten in den ersten Stunden immer wieder nach oben oder unten korrigiert werden.
| | | | |
| --- | --- | --- | --- |
| Datum / Zeit | Mag. / Tiefe | Ort | Quelle |
| Sat, 12 Sep 20:29 UTC | M 4.2 / 40 km | Near East Coast Of Honshu, Japan | EMSC |
Erfahrungsberichte von Nutzern zu diesem Erdbeben (1)
Earlier earthquakes in the same area since 1900
Leichtes Erdbeben der Stärke 4.2 - Near East Coast Of Honshu, Japan am Samstag, 12. Sep. 2020
Hinweis: auf Datum / Weltzeit klicken, um nach Zeitpunkt zu sortieren.

Datum / Weltzeit

|

Mag

|

Tiefe

|

Alter

|

Entfernung

| Details

11 Mär 2011 05:46

|

9.1

|

29km / 18mi

|

vor 10 Jahren

|

27km / 17mi

| 2011 Great Tohoku Earthquake, Japan

13 Okt 1963 05:17

|

8.5

|

35km / 22mi

|

vor 57 Jahren

|

931km / 579mi

| Kuril Islands (Russia)

02 Mär 1933 17:31

|

8.4

|

15km / 9,3mi

|

vor 88 Jahren

|

222km / 138mi

| 1933 Sanriku (Sanriku-oki) Earthquake, Japan

04 Okt 1994 13:22

|

8.3

|

14km / 8,7mi

|

vor 26 Jahren

|

726km / 451mi

| Kuril Islands (Russia)

06 Nov 1958 22:58

|

8.3

|

35km / 22mi

|

vor 62 Jahren

|

846km / 526mi

| Kuril Islands (Russia)

20 Dez 1946 19:19

|

8.3

|

15km / 9,3mi

|

vor 74 Jahren

|

825km / 513mi

| 1946 Nankai Earthquake, Japan

25 Sep 2003 19:50

|

8.2

|

27km / 17mi

|

vor 17 Jahren

|

396km / 246mi

| Hokkaido, Japan Region

11 Aug 1969 21:27

|

8.2

|

30km / 19mi

|

vor 51 Jahren

|

725km / 450mi

| Kuril Islands (Russia)

16 Mai 1968 00:49

|

8.2

|

30km / 19mi

|

vor 52 Jahren

|

283km / 176mi

| Off the East Coast of Honshu, Japan

04 Mär 1952 01:22

|

8.1

|

45km / 28mi

|

vor 69 Jahren

|

424km / 263mi

| Hokkaido, Japan Region

Alle anzeigen
Karte früherer Beben
Mehr auf VolcanoDiscovery