Leichtes Erdbeben der Stärke 4.9 - 59 km ENE of Kathmandu, Nepal am Dienstag, 15. Sep. 2020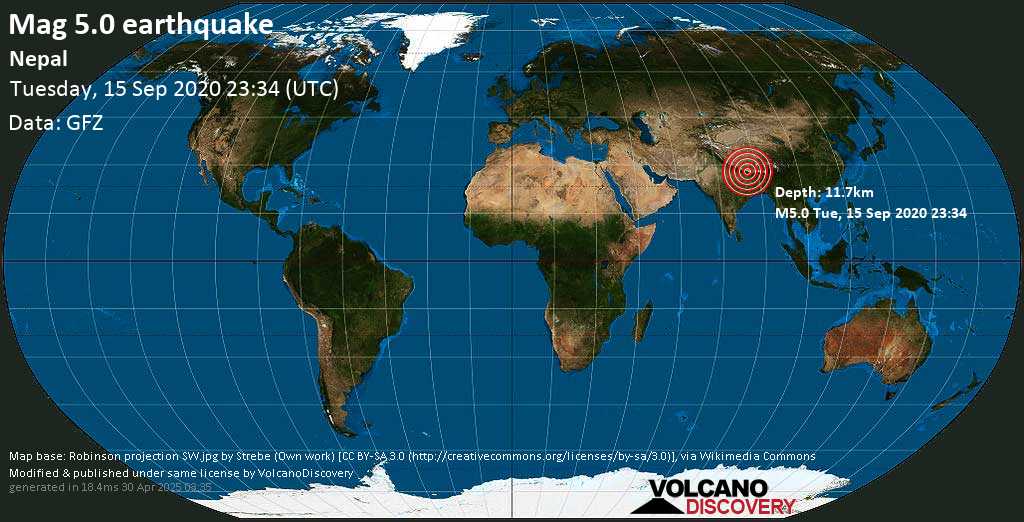 15. Sep. 23:42 UTC: Erste Meldung: GFZ nach 8 Minuten.
16. Sep. 05:54: Erdbebenherdtiefe neu berechnet von 10.0 auf 12.0 km (von 6.2 auf 7.5 mi). Epizentrum korrigiert um 7.8 km (4.8 mi) nach S.
Update Wed, 16 Sep 2020, 06:37
Damaging earthquake hits Nepal this morning
This morning's quake in Nepal and location of user reports of it
A moderately strong earthquake hit Nepal this morning at 5:19 am local time (which is 5 hours 45 minutes ahead of GMT). According to various agencies, the quake had a magnitude between 4.9 and 6.0 and struck approx. 60 km NE of the capital Kathmandu in the Sindhupalchok district.
The quake was widely felt within nearby areas and the capital where thousands felt a short shake, although many people left their houses in fear of stronger quakes, remembering the deadly magnitude 7.8 earthquake 5 years ago on 25 April 2015, which had hit 100 km to the west of today's tremor, killing nearly 9,000 people and injuring nearly 22,000. Local newspaper reported that one house in the epicenter area collapsed and one person was injured.
The area of the earthquake's epicenter had recently suffered from a series of devastating landslides which were caused by heavy monsoon rains and killed several people. The new quake and aftershocks of it could further destabilize slopes, which could in turn lead to more landslides in the near future, authorities warn.
Earthquake data:
Datum und Zeit (Weltzeit): Dienstag, 15. September 2020 23:34 UTC
Ortszeit am Epizentrum:
16 Sep 5:19 am
Magnitude (Stärke): 4.9
Tiefe des Erdbebenherds: 12.0 km
Epizentrum geog. Breite / Länge: 27,9°N / 85,88°E
(
Nepal
)
Orte und Städte in der Nähe:
10 km SW von Kodāri̇̄
(pop: 1,600)
45 km NE von Dhulikhel
(pop: 16,300)
46 km NE von Banepā
(pop: 17,200)
59 km NE von Kathmandu
(pop: 1,442,300)
192 km E von Pokhara
(pop: 200,000)
194 km N von Darbhanga
(pop: 287,200)
Primäre Datenquelle:
GFZ
Geschätzte Erdbebenenergie: 1,4 x 10
12
joules (392 megawatt hours, equivalent to 338 tons of TNT) [
mehr dazu
]
Erdbebendaten von verschiedenen Agenturen im Vergleich
Info: Je mehr verschiedene Agenturen das gleiche Beben angeben, desto verlässlicher sind die Daten und umso genauer kann man einen Mittelwert zu Magnitude, Tiefe etc ableiten. Es dauert normalerweise einige Stunden, bis die seismischen Daten präzise ausgewertet worden sind und die Angaben zuverlässige Präzision besitzen. Dies führt oft dazu, dass Magnitude und andere Daten in den ersten Stunden immer wieder nach oben oder unten korrigiert werden.
Datum / Zeit
Mag. / Tiefe
Ort
Quelle
16 Sep 5:19 am

(15 Sep 23:34:04 UTC)

M 4.9 / 12 km
59 km ENE of Kathmandu, Nepal
GFZ
Tue, 15 Sep 23:34 UTC
M 5.3 / 10 km
Nepal
EMSC
2020-09-16 07:34:04

(15 Sep 23:34:04 UTC)

M 4.9 / 10 km
尼泊尔, Nepal
CEIC
Tue, 15 Sep 23:34 UTC
M 5.1 / 38 km
Nepal
BMKG
Tue, 15 Sep 23:34 UTC
M 5.1 / 24.3 km
Nepal
GeoAu
Tue, 15 Sep 23:34 UTC
M 5.3 / 10 km
11 Km SW of Kodāri̇̄, Nepal
USGS
Erfahrungsberichte von Nutzern zu diesem Erdbeben (317)
Earlier earthquakes in the same area since 1900
Leichtes Erdbeben der Stärke 4.9 - 59 km ENE of Kathmandu, Nepal am Dienstag, 15. Sep. 2020
Karte früherer Beben
Mehr auf VolcanoDiscovery