Leichtes Erdbeben der Stärke 4.3 - South Pacific Ocean, Neuseeland, am Sonntag, 16. Jun 2019 um 05:55 GMT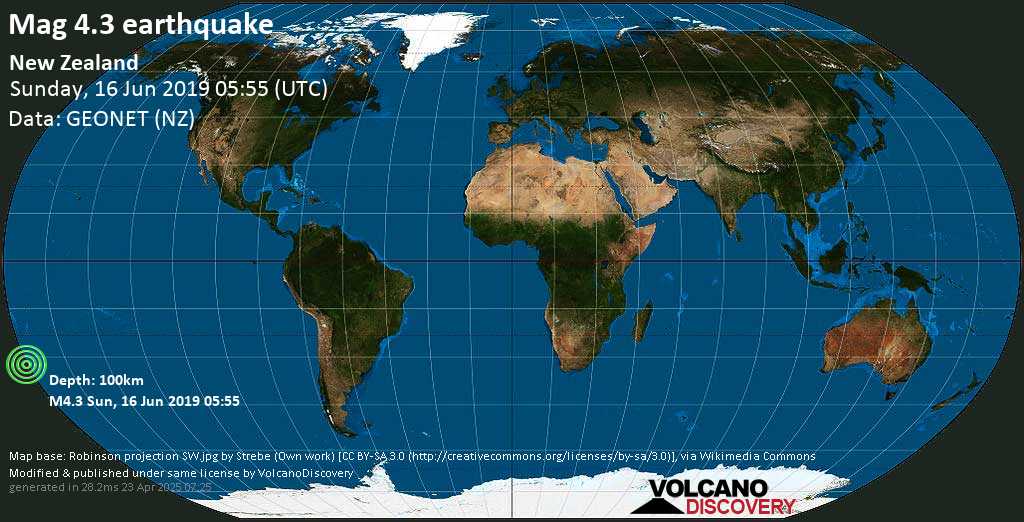 Leichtes Erdbeben der Stärke 4.3 in 100 km Tiefe
16 Jun 06:24 UTC: Erste Meldung: GEONET (NZ) nach 29 Minuten.
Jun 16 06:25: Magnitude neu berechnet von 4.6 auf 4.3.
Data for the same earthquake reported by different agencies
Info: The more agencies report about the same quake and post similar data, the more confidence you can have in the data. It takes normally up to a few hours until earthquake parameters are calculated with near-optimum precision.
Seismograms
Seismic station: South Karori, New Zealand (SNZO/IU network)
| Distance from quake: 1169 km / 727 mi |
auf Karte zeigen
|
Station Info
Seismogram (vertical component) around time of quake. Thin dotted red line indicates time of quake. Seismic waves arrive some time later, depending on distance. Source:
IRIS Buffer of Uniform Data (BUD) webtool
User reports for this quake
There are no user reports for this quake.