Leichtes Erdbeben der Stärke 3.5 - 176 km nordöstlich von Kotzebue, Northwest Arctic, Alaska, USA, am Mittwoch, 5. Mai 2021 um 10:04 Lokalzeit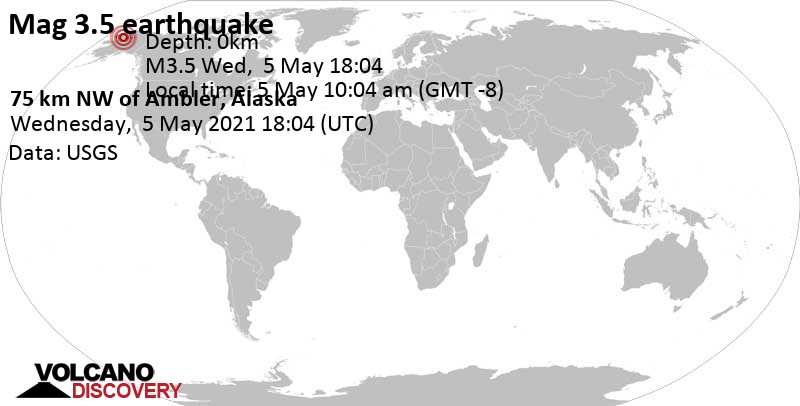 Leichtes Erdbeben der Stärke 3.5 in 0 km Tiefe
5. May. 18:10 UTC: Erste Meldung: USGS nach 6 Minuten.
Update Wed, 5 May 2021, 18:15
Schwaches Erdbeben der Stärke 3.5 vor wenigen Minuten gemeldet nordwestlich von Ambler (Northwest Arctic, Alaska), Alaska, USA
Leichtes Erdbeben der Stärke 3.5 - Northwest Arctic Parish, 176 km nordöstlich von Kotzebue, Northwest Arctic, Alaska, USA, am Mittwoch, 5. Mai 2021 um 10:04 Lokalzeit
In Alaska, USA bebte heute die Erde mit einer Stärke von 3.5. Laut Angaben des United States Geological Survey ereignete sich das Beben am Mittwoch, dem 5. Mai 2021, morgens um 10:04 Lokalzeit 75 km nordwestlich von Ambler (Northwest Arctic, Alaska) in einer Tiefe von km. Die Stärke, genaue Lage des Epizentrums und Erdbebentiefe können in den nächsten Stunden noch korrigiert werden, während Seismologen die Daten manuell auswerten und ihre Berechnungen verfeinern.
Das European-Mediterranean Seismological Centre (EMSC) meldete das Erdbeben ebenfalls und gab ebenfalls eine Stärke von 3.5 an.
Anhand der vorläufigen seismischen Daten und ersten Berechnungen sind keine Schäden zu erwarten und das Beben wurde wahrscheinlich nicht gespürt.
Data for the same earthquake reported by different agencies
Info: The more agencies report about the same quake and post similar data, the more confidence you can have in the data. It takes normally up to a few hours until earthquake parameters are calculated with near-optimum precision.
| | | | |
| --- | --- | --- | --- |
| Mag. | Tiefe | Ort | Quelle |
| 3.5 | 0 km | 75 Km NW of Ambler, Alaska, USA | USGS |
| 3.4 | 30 km | NORTHERN ALASKA, USA | EMSC |
Seismograms
Seismic station: Redstone River, AK, USA (E19K/AK network)
| Distance from quake: 75 km / 46 mi |
auf Karte zeigen
|
Station Info
Seismogram (vertical component) around time of quake. Thin dotted red line indicates time of quake. Seismic waves arrive some time later, depending on distance. Source:
IRIS Buffer of Uniform Data (BUD) webtool
User reports for this quake
There are no user reports for this quake.