Schwaches Erdbeben Stärke 2.1 - Bay of Plenty, Neuseeland, am Donnerstag, 27. Jan 2022 um 22:48 Lokalzeit -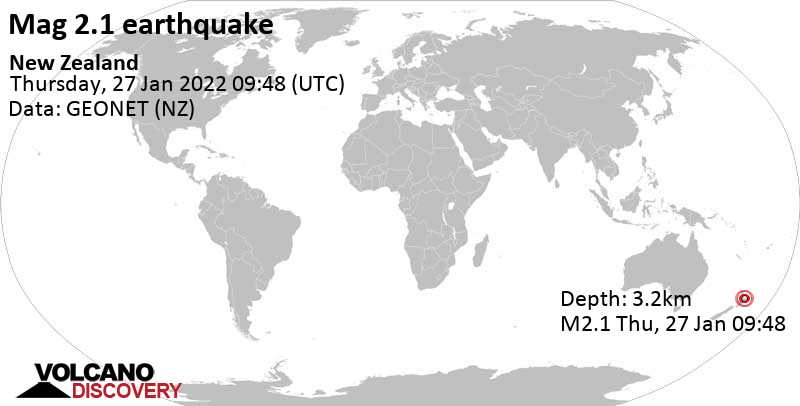 Schwaches Erdbeben Stärke 2.1 in 3.2 km Tiefe
27. Jan. 09:50 UTC: Erste Meldung: GEONET (NZ) nach 2 Minuten.
27. Jan. 09:51: Magnitude neu berechnet von 2.2 auf 2.1. Erdbebenherdtiefe neu berechnet von 5.1 auf 3.2 km (von 3.2 auf 2 mi). Epizentrum korrigiert um 0.7 km (0.4 mi) nach NNE.
Erdbebendaten
Datum und Zeit
27 Jan 2022 09:48:20 UTC -
Lokalzeit

am Epizentrum

Donnerstag, 27. Jan. 2022 22:48 (GMT +13)
Status
Bestätigt
Magnitude
2.1
Tiefe
3.2 km
Epizentrum

Breite / Länge

38.05561°S / 176.73871°E (Whakatane District, Bay of Plenty, Neuseeland)
Antipode
38.056°N / 3.261°W
Intensität
Schwach in der Nähe des Epizentrums
Gespürt
0 Berichte
Primäre Datenquelle
GEONET (NZ) (Earthquake Commission and Geological Survey (Neuseeland) )
Nächstgelegener Vulkan
Okataina (Tarawera) (22 km / 14 mi)
Orte in der Nähe
397 km NNE von Wellington (pop: 381,900) |

Karte

| Beben in der Nähe
Wetter am Epizentrum

zum Zeitpunkt des Bebens

Clear Sky 16.4°C (62 F), humidity: 72%, wind: 2 m/s (3 kts) from S

Geschätzte

Erdbebenenergie
8.9 x 107 Joule (24.8 Kiloawattstunden) | about seismic energy
Data for the same earthquake reported by different agencies
Info: The more agencies report about the same quake and post similar data, the more confidence you can have in the data. It takes normally up to a few hours until earthquake parameters are calculated with near-optimum precision.
User reports for this quake
Beben dieser Stärke (2.1) können von Menschen nur in seltensten Fällen wahrgenommen werden, werden aber leicht von modernen Seismometern registriert.
There are no user reports for this quake.