Status: höchst ungewiss [?]
Unbestätigtes Erdbeben oder erdbebenähnliches Ereignis: 6.5 km südwestlich von Salt Lake City, Salt Lake County, Utah, USA, am Samstag, 13. Aug 2022 um 08:30 Lokalzeit -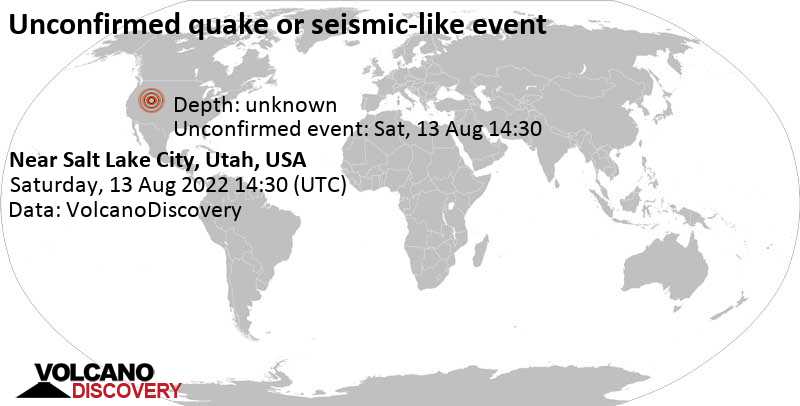 13. Aug. 14:34 UTC: Erste Meldung: VolcanoDiscovery nach 5 Minuten.
Update Sat, 13 Aug 2022, 14:41
Seismic-like event, possible earthquake, reported about 10 minutes ago near Salt Lake City, Utah, USA
We are receiving unverified early reports of ground shaking possibly caused by seismic activity in or near Salt Lake City, Utah, USA on 13 Aug 2022 (GMT) at approximately 14:30 GMT.
There are no details yet on the magnitude or depth of this possible quake. If confirmed, we can expect more accurate data to emerge in the next few minutes. The location, magnitude and time mentioned are indicative, based on our best-fit seismic model. They are temporary until our AllQuakes monitoring service receives more exact scientific data from a national or international seismological agency. Check back here shortly and stay safe.
Erdbebendaten
Datum und Zeit
13 Aug 2022 14:30:09 UTC -
Lokalzeit

am Epizentrum

Samstag, 13. Aug. 2022 08:30 (GMT -6)
Status
höchst ungewiss
Magnitude
unbekannt (3.8?)
Tiefe
20.0 km
Epizentrum

Breite / Länge

40.71411°N / 111.9366°W (Salt Lake, Utah, Vereinigte Staaten)
Antipode
40.714°S / 68.063°E
Intensität
Schwach in der Nähe des Epizentrums
Gespürt
0 Berichte
Primäre Datenquelle
VolcanoDiscovery (Erdbebenberichte von Nutzern)
Nächstgelegener Vulkan
Black Rock Desert (195 km / 121 mi)
Orte in der Nähe
5 km N von Taylorsville (pop: 60,500) |

Karte

| Beben in der Nähe
6 km WNW von Millcreek (pop: 62,100) |

Karte

| Beben in der Nähe
6 km ENE von West Valley City (pop: 136,200) |

Karte

| Beben in der Nähe
6 km SW von Salt Lake City (pop: 192,700) |

Karte

| Beben in der Nähe
7 km NW von Murray (pop: 49,300) |

Karte

| Beben in der Nähe
8 km NE von Kearns (Salt Lake County) (pop: 35,700) |

Karte

| Beben in der Nähe
12 km N von West Jordan (pop: 111,900) |

Karte

| Beben in der Nähe
14 km NNW von Sandy (pop: 87,500) |

Karte

| Beben in der Nähe
Wetter am Epizentrum

zum Zeitpunkt des Bebens

Clear Sky 21.9°C (71 F), humidity: 69%, wind: 3 m/s (6 kts) from S
Seismograms
Seismic station: Dugway, Tooele County, Utah, USA (DUG/US network)
| Distance from quake: 94 km / 58 mi |
auf Karte zeigen
|
Station Info
Seismogram (vertical component) around time of quake. Thin dotted red line indicates time of quake. Seismic waves arrive some time later, depending on distance. Bandpass filter applied: 0.5-10.0 Hz. Source:
IRIS Buffer of Uniform Data (BUD) webtool
User reports for this quake
There are no user reports for this quake.