Sehr schwaches Beben Stärke 1.9 - Wyoming, 27 km nordöstlich von West Yellowstone, Gallatin County, Montana, USA, am Donnerstag, 22. Sep 2022 um 19:57 Lokalzeit -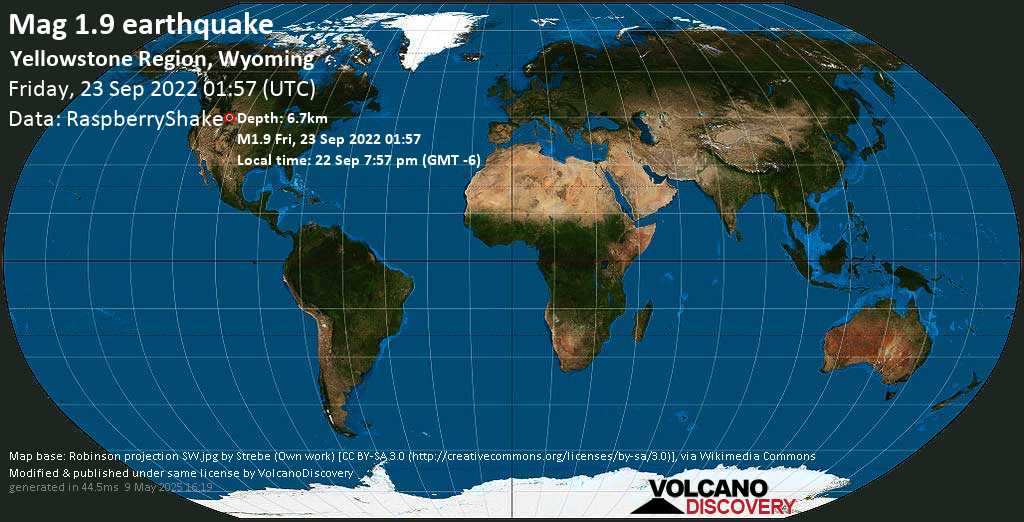 Sehr schwaches Beben Stärke 1.9 in 6.7 km Tiefe
23. Sep. 15:52 UTC: Erste Meldung: RaspberryShake nach 14 Stunden.
Data for the same earthquake reported by different agencies
Info: The more agencies report about the same quake and post similar data, the more confidence you can have in the data. It takes normally up to a few hours until earthquake parameters are calculated with near-optimum precision.
Seismograms
Seismic station: Bozeman, Montana, USA (BOZ/US network)
| Distance from quake: 112 km / 69 mi |
auf Karte zeigen
|
Station Info
Seismogram (vertical component) around time of quake. Thin dotted red line indicates time of quake. Seismic waves arrive some time later, depending on distance. Bandpass filter applied: 0.5-10.0 Hz. Source:
IRIS Buffer of Uniform Data (BUD) webtool
User reports for this quake (1)
Beben dieser Stärke können von Menschen normalerweise nicht gespürt werden, werden aber von modernen Seismometern registriert.
West Yellowstone / Weak shaking (MMI III) / horizontal (sideways) swinging / 2-5 s