Sehr schwaches Beben Stärke 1.2 - Spain: SE VALSEQUILLO DE GRAN CANARIA, am Donnerstag, 24. Nov 2022 um 23:13 Lokalzeit -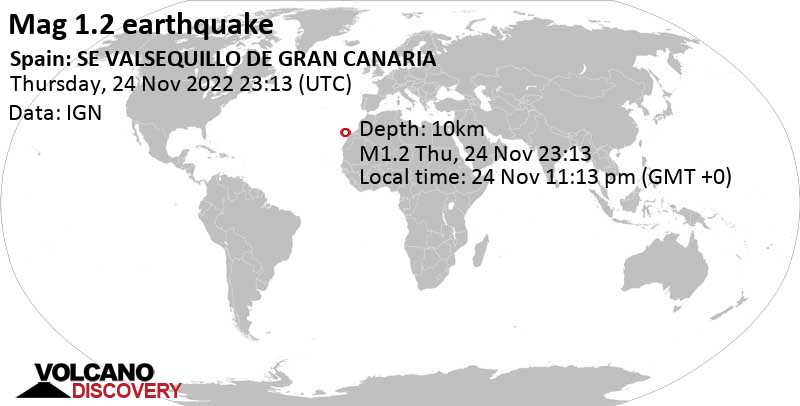 Sehr schwaches Beben Stärke 1.2 in 10 km Tiefe
25. Nov. 00:25 UTC: Erste Meldung: IGN nach 1 Stunde und 12 Minuten.
Data for the same earthquake reported by different agencies
Info: The more agencies report about the same quake and post similar data, the more confidence you can have in the data. It takes normally up to a few hours until earthquake parameters are calculated with near-optimum precision.
| | | | |
| --- | --- | --- | --- |
| Mag. | Tiefe | Ort | Quelle |
| 1.2 | 10 km | Spain: SE VALSEQUILLO DE GRAN CANARIA | IGN |
Seismograms
Seismic station: Morro de la Arena, Canary Islands (MACI/IU network)
| Distance from quake: 106 km / 66 mi |
auf Karte zeigen
|
Station Info
Seismogram (vertical component) around time of quake. Thin dotted red line indicates time of quake. Seismic waves arrive some time later, depending on distance. Bandpass filter applied: 0.5-10.0 Hz. Source:
IRIS Buffer of Uniform Data (BUD) webtool