Moderates Erdbeben der Stärke 4.8 - Nordpazifik, 90 km südlich von Unalaska, Aleutians West, Alaska, USA, am Donnerstag, 1. Dez 2022 um 02:58 Lokalzeit -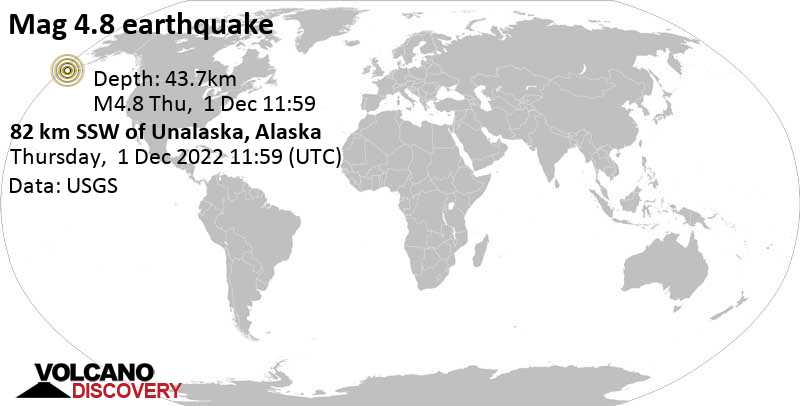 Moderates Erdbeben der Stärke 4.8 in 38 km Tiefe
1. Dec. 12:14 UTC: Erste Meldung: GFZ nach 16 Minuten.
1. Dec. 12:17: Neue primäre Datenquelle: USGS
Update Thu, 1 Dec 2022, 12:21
Leichtes Erdbeben der Stärke 4.8 erschüttert Unalaska (Aleutians West, Alaska), Alaska, USA
Moderates Erdbeben der Stärke 4.8 - Nordpazifik, 90 km südlich von Unalaska, Aleutians West, Alaska, USA, am Donnerstag, 1. Dez 2022 um 02:58 Lokalzeit
Ein Beben der Stärke 4.8 ereignete sich nur vor 22 Minuten in der Nähe von Unalaska (Aleutians West, Alaska) in Alaska, USA, wie der United States Geological Survey berichtete. Laut Angaben des Instituts, das als die wichtigste nationale und internationale Agentur für seismische Tätigkeit in den USA gilt, ereignete sich das Beben am Donnerstag, dem 1. Dezember 2022, in den frühen Morgenstunden um 02:58 Lokalzeit in einer mäßigen Tiefe von 38 km unter dem Epizentrum. Die Stärke, genaue Lage des Epizentrums und Erdbebentiefe können in den nächsten Stunden noch korrigiert werden, während Seismologen die Daten manuell auswerten und ihre Berechnungen verfeinern.
Eine zweite Agentur, The Incorporated Research Institutions for Seismology (IRIS), gab das Erdbeben abweichend mit einer Stärke von 4.9 an. Andere Quellen zum gleichen Beben sind u.a. das Deutsche GeoForschungsZentrum in Potsdam (GFZ) (Stärke 4.7), the citizen-seismograph network of RaspberryShake (Stärke 4.8) und das European-Mediterranean Seismological Centre (EMSC) (Stärke 4.8).
Folgende Orte in der Nähe des Epizentrums wurden wahrscheinlich vom Beben betroffen: Unalaska (4,500 Einw. in 90 km Entfernung, sehr leichtes Vibrieren zu erwarten) und Dutch Harbor (4,400 Einw. in 91 km Entfernung, sehr leichtes Vibrieren).
Wir werden diesen Artikel aktualisieren, wenn es wichtige neue Nachrichten gibt. Wenn Sie sich zum Zeitpunkt des Bebens in der Gegend befunden haben, bitten wir Sie, uns Ihren Erfahrungsbericht über unsere App oder Webseite zuzuschicken. Erfahrungsberichte aus erster Hand sind zum besseren Verständnis und zum Überblick der Lage von unschätzbarem Wert.
Erdbebendaten
Datum und Zeit
1 Dec 2022 11:58:59 UTC -
Lokalzeit

am Epizentrum

Donnerstag, 1. Dez. 2022 02:58 (GMT -9)
Status
Bestätigt
Magnitude
4.8
Tiefe
37.8 km
Epizentrum

Breite / Länge

53.0918°N / 166.8739°W (Nordpazifik, Alaska, Vereinigte Staaten)
Antipode
53.092°S / 13.126°E
Intensität
Mäßig in der Nähe des Epizentrums
Gespürt
0 Berichte
Primäre Datenquelle
USGS (United States Geological Survey)
Nächstgelegener Vulkan
Makushin (89 km / 55 mi)
Orte in der Nähe
90 km SSW von Unalaska (pop: 4,490) |

Karte

| Beben in der Nähe
91 km SSW von Dutch Harbor (pop: 4,380) |

Karte

| Beben in der Nähe
134 km E von Nikolski (pop: 18) |

Karte

| Beben in der Nähe
137 km SSW von Akutan (pop: 1,040) |

Karte

| Beben in der Nähe
299 km SW von False Pass (pop: 40) |

Karte

| Beben in der Nähe
357 km SW von Cold Bay (pop: 123) |

Karte

| Beben in der Nähe
369 km SW von King Cove (pop: 1,010) |

Karte

| Beben in der Nähe
426 km SSE von Saint George (pop: 102) |

Karte

| Beben in der Nähe
Wetter am Epizentrum

zum Zeitpunkt des Bebens

Broken Clouds 5.8°C (43 F), humidity: 89%, wind: 2 m/s (4 kts) from SE

Geschätzte

Erdbebenenergie
1 x 1012 Joule (278 Megawattstunden, entspricht 239 Tonnen TNT) | about seismic energy
Data for the same earthquake reported by different agencies
Info: The more agencies report about the same quake and post similar data, the more confidence you can have in the data. It takes normally up to a few hours until earthquake parameters are calculated with near-optimum precision.
| | | | |
| --- | --- | --- | --- |
| Mag. | Tiefe | Ort | Quelle |
| 4.8 | 38 km | 89 Km SSW of Unalaska, Alaska | USGS |
| 4.8 | 36 km | FOX ISLANDS, ALEUTIAN ISLANDS | EMSC |
| 4.8 | 38 km | Fox Islands, Aleutian Islands | RaspberryShake |
| 4.7 | 37 km | Fox Islands, Aleutian Islands | GFZ |
| 4.9 | 10 km | Fox Islands, Aleutian Islands | IRIS |
Seismograms
Seismic station: Fort Glenn, Okmok Caldera, Alaska (OKFG/AV network)
| Distance from quake: 78 km / 48 mi |
auf Karte zeigen
|
Station Info
Seismogram (vertical component) around time of quake. Thin dotted red line indicates time of quake. Seismic waves arrive some time later, depending on distance. Bandpass filter applied: 0.2-10.0 Hz. Source:
IRIS Buffer of Uniform Data (BUD) webtool
User reports for this quake
There are no user reports for this quake.