Sehr schwaches Beben Stärke 3.1 - 89 km östlich von Copiapó, Provincia de Copiapo, Atacama, Chile, am Sonntag, 5. Feb 2023 um 08:25 Lokalzeit -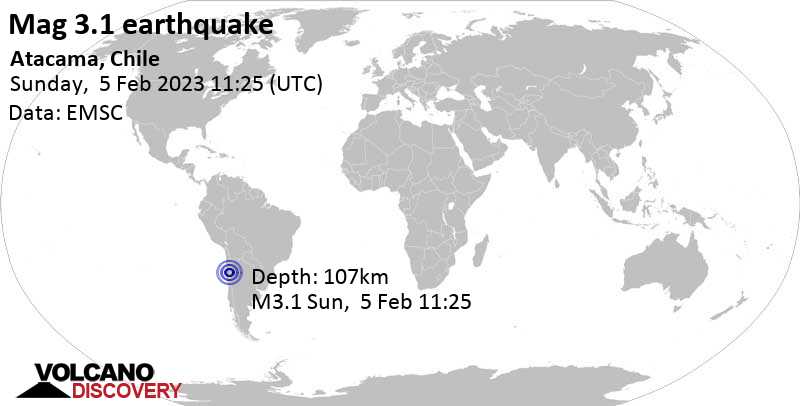 Sehr schwaches Beben Stärke 3.1 in 107 km Tiefe
5. Feb. 11:37 UTC: Erste Meldung: EMSC nach 12 Minuten.
Erdbebendaten
Datum und Zeit
5 Feb 2023 11:25:04 UTC -
Lokalzeit

am Epizentrum

Sonntag, 5. Feb. 2023 08:25 (GMT -3)
Status
Bestätigt
Magnitude
3.1
Tiefe
107.0 km
Epizentrum

Breite / Länge

27.61°S / 69.47°W (Provincia de Copiapo, Atacama, Chile)
Antipode
27.61°N / 110.53°E
Intensität
Nicht gespürt
Primäre Datenquelle
EMSC (European-Mediterranean Seismological Centre)
Nächstgelegener Vulkan
El Solo (93 km / 58 mi)
Orte in der Nähe
89 km ESE von Copiapó (pop: 129,300) |

Karte

| Beben in der Nähe
150 km SSE von Diego de Almagro (pop: 18,100) |

Karte

| Beben in der Nähe
166 km NE von Vallenar (pop: 44,900) |

Karte

| Beben in der Nähe
178 km NW von Vinchina (La Rioja, Argentinien) (pop: 2,830) |

Karte

| Beben in der Nähe
660 km N von Santiago de Chile (Metropolitana) (pop: 4,837,300) |

Karte

| Beben in der Nähe
Wetter am Epizentrum

zum Zeitpunkt des Bebens

Broken Clouds 8.8°C (48 F), humidity: 58%, wind: 1 m/s (3 kts) from SSW

Geschätzte

Erdbebenenergie
2.8 x 109 Joule (783 Kiloawattstunden, entspricht 0.674 Tonnen TNT) | about seismic energy
Data for the same earthquake reported by different agencies
Info: The more agencies report about the same quake and post similar data, the more confidence you can have in the data. It takes normally up to a few hours until earthquake parameters are calculated with near-optimum precision.
Seismograms
Seismic station: Copiapo (Tierra Amarilla), Chile (GO03/C network)
| Distance from quake: 75 km / 47 mi |
auf Karte zeigen
|
Station Info
Seismogram (vertical component) around time of quake. Thin dotted red line indicates time of quake. Seismic waves arrive some time later, depending on distance. Bandpass filter applied: 0.5-10.0 Hz. Source:
IRIS Buffer of Uniform Data (BUD) webtool
User reports for this quake
There are no user reports for this quake.