Santorin: Faszination Vulkan - Reisefotos (April / Mai 2007)
Eine unserer beliebtesten Touren -
Faszination Vulkan
- führt uns alljährlich im Frühling und Herbst zum Wandern und entdecken nach Santorin. Hier sind einige Eindrücke der beiden Touren im April und Mai 2007 gesammelt:
Mehr auf VolcanoDiscovery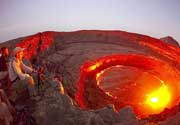 Tours to active volcanoes
: Watching a volcanic eruption is one of the most impressive natural displays. We have a wide selection of tours to active volcanoes worldwide at different activity and difficulty levels.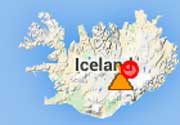 Current activity of Bardarbunga volcano, Iceland
: An intense seismic crisis started at Bárdarbunga volcano on 16 August 2014 and is continuing at the time of writing (23 Aug). It may or may not lead to a volcanic eruption, possibly under the Vatnajökull ice cap.
Follow updates as news come in!