Ibu volcano news
Ibu volcano Volcanic Ash Advisory: WEAK VA EMISSIONS TO FL060 OBS VA DTG: 23/1700Z
Sa, 23. Jun 2018, 17:00
17:00 PM |
Satellite image of Ibu volcano on 23 Jun 2018
Volcanic Ash Advisory Center Darwin (VAAC) issued the following report:
FVAU0295 at 16:53 UTC, 23/06/18 from ADRM
VA ADVISORY
DTG: 20180623/1700Z
VAAC: DARWIN
VOLCANO: IBU 268030
PSN: N0129 E12738
AREA: INDONESIA
SUMMIT ELEV: 1325M
ADVISORY NR: 2018/15
INFO SOURCE: HIMAWARI-8
AVIATION COLOUR CODE: ORANGE
ERUPTION DETAILS: WEAK VA EMISSIONS TO FL060
OBS VA DTG: 23/1700Z
OBS VA CLD: VA NOT IDENTIFIABLE FM SATELLITE DATA WIND
SFC/FL060 090/10KT
FCST VA CLD +6 HR: 23/2300Z NO VA EXP
FCST VA CLD +12 HR: 24/0500Z NO VA EXP
FCST VA CLD +18 HR: 24/1100Z NO VA EXP
RMK: AREA IS PARTIALLY OBSCURED BY MET CLOUD, HOWEVER SUMMIT
IS CURRENTLY CLEAR AND EARLIER VA IS EXPECTED TO HAVE NOW
DISSIPATED. WEAK EMISSIONS LAST OBS MOV W AT 23/0810Z. NO
FURTHER REPORTS OF NEW OR ONGOING ERUPTION. ADVISORY
TERMINATED.
NXT ADVISORY: NO FURTHER ADVISORIES
Mehr auf VolcanoDiscovery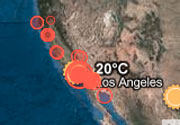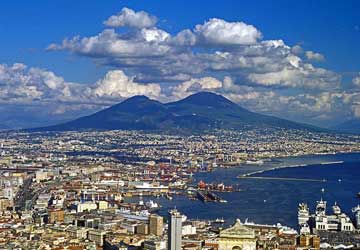 One of the world's most famous volcanoes looming over the City of Naples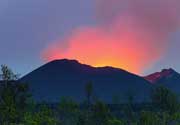 Nyamuragira volcano photos
: Africa's version of Mauna Loa, Nyamuragira (or Nyamulagira) is a massive basaltic shield volcano neighboring Nyiragongo. It is one of the most active volcanoes in the world and has voluminous eruptions every few years.