Kanaga Vulkan
Schichtvulkan 1307 m / 4,288 ft
Andreanof Islands, Aleutian Islands, Alaska , 51.92°N / -177.17°W
Aktueller Status
:
normal / ruhend
(1 von 5) |
Berichte
Kanaga Vulkan-Bücher
Last update:
11 Sep 2012 (Alarmstufe auf Normal heruntergesetzt)
Typische Aktivität
: explosive
Ausbrüche des Kanaga
: 2012 (?), 1993-95, 1942, 1933, 1906, 1904, 1829?, 1791?, 1790?, 1783-87?, 1768, 1763
Uhrzeit
Mag. / Tiefe
Distance
Ort
Thu, 23 Jul 2020
Thu, 23 Jul 13:22 UTC
M 0.7 / 12.2 km
24 km
34 km WSW of Adak, Alaska (USA)
Mon, 20 Jul 2020
Mon, 20 Jul 03:25 UTC
M 1.2 / 9.8 km
22 km
36 km WSW of Adak, Alaska (USA)
Thu, 16 Jul 2020
Thu, 16 Jul 21:10 UTC
M 2.2 / 11.9 km
15 km
41 km WSW of Adak, Alaska (USA)
Der Vulkan hat einen kleinen 200 m breit und 60 m tiefen kreisrunden Krater mit Fumarolen im Krater und um seine Felgen. Historische Eruptionen seit 1763, nicht aber im Einzelnen noch aufgrund der Abgelegenheit des Vulkans aufgezeichnet wurden. Eine neue Eruption könnte am 18. Februar 2012 begonnen haben.
Beschreibung:
Symmetrical Kanaga stratovolcano is situated within the Kanaton caldera at the northern tip of Kanaga Island. It is composed of interbedded basaltic and andesitic lava flows, scoria layers, and pyroclastic rocks.
The rim of Kanaton caldera forms a 760-m-high arcuate ridge south and east of Kanaga; a lake occupies part of the SE caldera floor. The volume of subaerial dacitic tuff is smaller than would typically be associated with caldera collapse, and deposits of a massive submarine debris avalanche associated with edifice collapse extend nearly 30 km to the NNW. Several fresh lava flows from historical or late prehistorical time descend the flanks of Kanaga, in some cases to the sea.
Kanaga is also noted petrologically for ultramafic inclusions within an outcrop of alkaline basalt SW of the volcano. Fumarolic activity occurs in a circular, 200-m-wide, 60-m-deep summit crater and produces vapor plumes sometimes seen on clear days from Adak, 50 km to the east.
(Smithsonian / GVP volcano information)
1994-95 eruption
Prior to 2012, the last eruption of Kanaga was in 1994-1995 when observed eruptive plumes were relatively dilute, rising to altitudes of less than 3 km (9,840 ft) and dropping ash onto the flanks of the volcano. Larger ash emissions reaching up to 7.5 km occurred on 21 February 1995. ...
mehr
1906 eruption
Kanaga was seen in eruption 1906 a hunter reported. The eruption was accompanied by earthquakes and lava flows were reported on the east and west side of the steep volcano's cone.
1904 eruption
Not much is known about the eruption of Kanaga volcano in 1904. Historic documents suggest a lava flow on the upper southern flank.
See also:
Sentinel hub
|
Landsat 8
Mehr auf VolcanoDiscovery: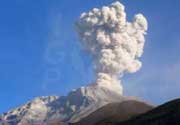 Ubinas activity updates
: The most frequently active volcano in Peru entered a new eruptive phase in 2014. Updates and news are regularly posted on this page.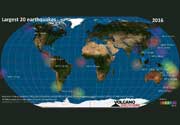 Top 20 quakes in 2016
: Several magnitude 7 quakes occurred in 2016 (but none above M8): Papua New Guinea, NZ, Ecuador, Solomon Islands, Sumatra, Chile, Alaska and others - nearly all major earthquakes were located near active subduction zones.
See the top 20 list of largest quakes in 2016 with this map.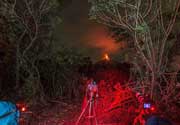 Exploring the unknown
: We sometimes invite you to "test" new itineraries or destinations with us. Such trips are a reduced cost and require a higher degree of flexibility, but often offer a great deal of adventure.