Karang
Schichtvulkan 1776 m / 5,833 ft
Westjava (Indonesien), -6.27°S / 106.05°E
Aktueller Status: (wahrscheinlich) erloschen (0 von 5)
Gunung Karang volcano lies in westernmost Java near Pulosari volcano SE of the geologically young 15-km-wide Danau caldera. The eroded and forested stratovolcano of andesitic and basaltic composition is the highest of a group of stratovolcanoes in the Danau caldera area.
Typische Tätigkeit:
Explosiv
Ausbrüche:
Letzte Erdbeben in der Nähe:
Keine jüngeren Beben
Beschreibung
Karang probably has had activity less than 10,000 years ago. It contains 2 craters on its eastern flank, Kawah Welirang and Kawah Haji, where active fumaroles are found.
Karang Fotos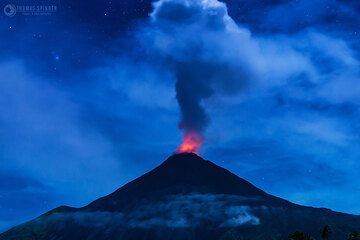 Karangetang side lit by the setting moon (Photo: Thomas Spinner)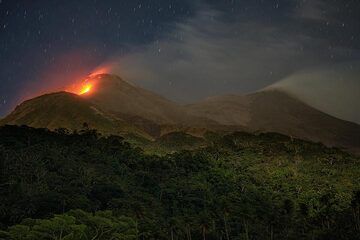 The active northern crater of Karangetang in Feb 2019. (Photo: Thomas Spinner)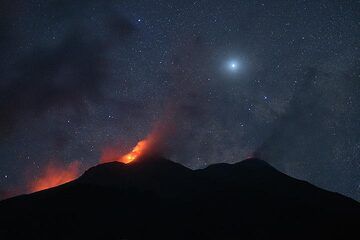 Night-time view of Karangetang with Venus. (Photo: Thomas Spinner)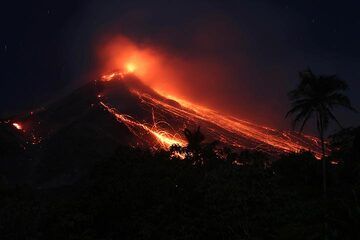 Gunung Karangtang (South Crater) with lava flows, View From A Hillside Above Winangun Village, Siau Island, North Maluku, Indonesia (Photo: Jay Ramji)

Siehe auch: Sentinel hub | Landsat 8 | NASA FIRMS