Kita-Fukutokutai Vulkan
Typische Aktivität
: explosive
Ausbrüche des Kita-Fukutokutai
: 2001 (?), 1988 (?), 1959 (?), 1953, 1947 (?), 1937 (?)
| | | | |
| --- | --- | --- | --- |
| Time | Mag. / Tiefe | Distance | Location |
Kita-Fukutokutai is a newly recognized active submarine volcano halfway between Iwo-jima and Minami-Iwo-jima islands, ca. 1300 km south of Tokyo.
Beschreibung:
The volcano rises to 73 m below the sea surface. Water discoloration was reported several times beginning in 1937, and floating pumice was seen in 1953-54. In 1988 a fishing boat reported an eruption column about 100 m high, although the report was not confirmed at the time. The Japan Meteorological Agency, which has responsibility for the oversight of Japanese volcanoes, has classified Kita-Fukutokutai as an active volcano.
(
from: Smithsonian / GVP volcano information
)
See also:
Sentinel hub
|
Landsat 8
Mehr auf VolcanoDiscovery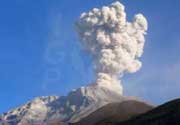 Ubinas activity updates
: The most frequently active volcano in Peru entered a new eruptive phase in 2014. Updates and news are regularly posted on this page.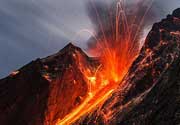 Tours to erupting volcanoes
: From time to time, we organize special tours to see volcanoes in eruption. These are often announced only few days or weeks in advance. Find out more!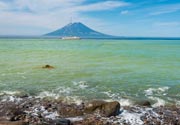 Kuril Islands expedition
: The Kuril islands form one of the most active volcanic chains in the world, but are very difficult to access. From time to time, we organize expeditions to some of these remote and still unspoiled islands. Adventure guaranteed!