Lassen
Schichtvulkan 3,189 m / 10,462 ft
Kalifornien, Canada and USA (mainland), 40.49°N / -121.5°W
Aktueller Status: normal / ruhend (1 von 5)
Last update: 26 Jun 2013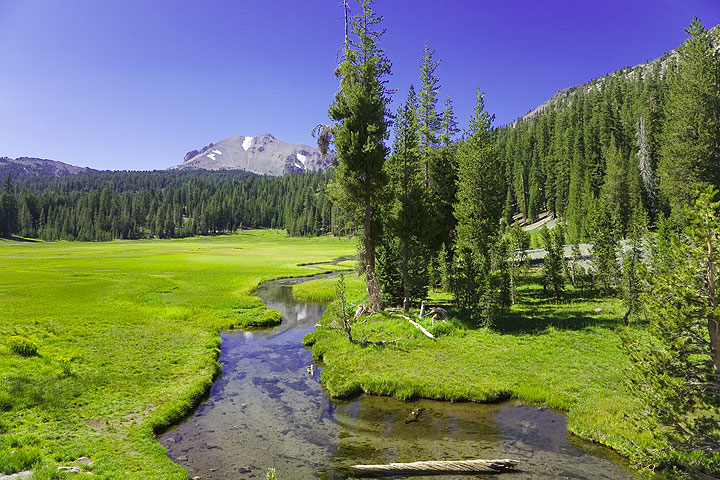 Kings Creek with Lassen Peak on the horizon
Lassen (or Lassen Peak) volcano in northern California is located at the southern end of the Cascade Range. Besides Mt St. Helens, it is the only volcano in the contiguous US that erupted in the 20th century.
Lassen's summit complex is a lava dome that rises 2,000 feet (610 m) above the surrounding terrain and has a volume of half a cubic mile, making it one of the largest lava domes on Earth. Its summit is a complex area of several craters.
Lassen Peak is the largest and youngest of a group of more than 30 volcanoes that have erupted in the Lassen Peak area over the past 300,000 years.
Typische Tätigkeit
: Explosiv
Ausbrüche
: 1914-17, 1650 (?)
Zeit
Stärke / Tiefe
Entfernung / Lage
Thu, 10 Jun 2021 (GMT) (3 Erdbeben)
10 Jun 2021 17:55:22 GMT


0.2


2.6 km
2.9 km (1.8 mi)
13km NNE of Mineral, CA
10 Jun 2021 06:59:03 GMT


0.9


9.3 km
30 km (19 mi)
2km NE of Chester, CA
10 Jun 2021 01:25:53 GMT


2.0


5.3 km
46 km (29 mi)
4km S of East Shore, CA
Wed, 9 Jun 2021 (GMT) (1 earthquake)
9 Jun 2021 23:56:58 GMT


2.3


5.1 km
49 km (30 mi)
2km N of Canyondam, CA
Sat, 5 Jun 2021 (GMT) (1 earthquake)
5 Jun 2021 02:17:32 GMT


1.0


7.9 km
31 km (19 mi)
2km ENE of Chester, CA
Lassen Fotos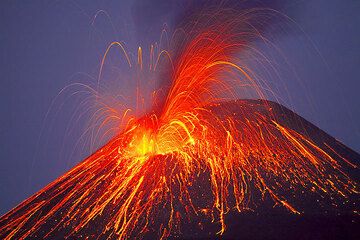 Heftige strombolianische Eruption; einige Blöcke sind erst sichtbar, wenn die die schwarze Aschenwolke verlassen. (Anak Krakatau) (Photo: Tom Pfeiffer)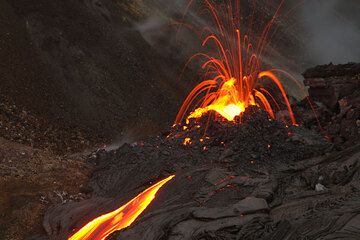 Explodierende Lavablasen an der Bocca lassen ein Feuerwerk aus glühender Lava 10 bis 20 m in die Höhe schießen. hawaii_e7554.jpg (Photo: Tom Pfeiffer)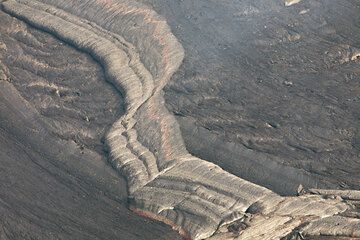 Plattentektonik in Miniaturausgabe: zwei Teile der Kruste über dem Lavasee driften von einander weg und die Nahtstelle wird durch nachströmende frische Lava gefüllt. Auch...
Teile des angestrahlten Kraters bei Nacht. Die Leuchtspuren von Taschenlampen einiger Beobachter, die den Rand verlassen, sind sichtbar. (Photo: Tom Pfeiffer)
1914-17 eruption
The 1914-17 eruptions of Lassen Peak was the first of only two eruptions in the continental USA during the 20th century. After 27,000 years of dormancy, Lassen began to erupt on 30 May 1914 with a phreatic explosion at the summit, triggered by rising magma.

Phreatic explosions 1914-15
Phreatic explosions continued for almost a year. By mid-May 1915, more than 180 steam explosions had blown out a 1,000-foot (300 m) wide crater near the summit of Lassen Peak.
On 12 June 1914, 5 climbers observed an explosion from half a mile distance. Milton Ayres, a movie operator from San Francisco described the event:
"We had no warning. The roar and the uprush of the black mass above were simultaneous. The rocks began to fall on the mountain side; the gases did not come our way much, as the wind drove them to the east, but we got some strong whiffs of sulphur smoke. For the same reason little ash fell where we were. Later we went on to the summit, reaching it at 6 P. M., two hours after the eruption began. We found the whole mountain top strewn with great boulders and heavy ash. No one could possibly have lived at the top while the outburst was on. We climbed up to the shelter house, where we had expected to spend the night, and found it in ruins. Boulders had crashed down through it and splintered the building to kindling wood."
---
Source: Preliminary Report on the Recent Volcanic Activity of Lassen Peak, Ruliff S. Holway, Bulletin of the American Geographical Society, Vol. 46, No. 10, 1914 (pp. 740-755)

A new lava dome appears
New magma finally appeared in the crater on the evening of May 14, 1915, when incandescent blocks of lava could be seen bouncing down the flanks of Lassen Peak from as far away as the town of Manton, 20 miles (30 km) to the west. By the next morning, a growing dome of dacite lava (lava consisting of 63% to 68% silica) had filled the volcano's crater.
On the evening of 19 May 1915, a large steam explosion fragmented the dacite dome, creating a new crater at the summit of Lassen Peak. No new magma was ejected in this explosion, but glowing blocks of hot lava from the dome fell on the summit and snow-covered upper flanks of Lassen Peak. These falling blocks launched a half mile (800 m) wide avalanche of snow and volcanic rock that roared 4 mi (6 km) down the volcano's steep northeast flank and over a low ridge at Emigrant Pass into Hat Creek.
As the hot lava blocks broke into smaller fragments, the snow melted, generating a mudflow of volcanic materials, called a lahar. The bulk of this lahar was deflected northwestward at Emigrant Pass and flowed 7 miles (11 km) down Lost Creek. Even after coming to rest, both the avalanche and lahar released huge volumes of water, flooding the lower Hat Creek Valley during the early morning hours of May 20. The lahar and flood destroyed six mostly not-yet-occupied summer ranch houses. Fortunately, the few people in these houses escaped with only minor injuries.
During the night of May 19–20, dacite lava somewhat more fluid than that which erupted on the night of May 14–15 welled up into and filled the new crater at Lassen's summit, spilled over low spots on its rim, and flowed 1,000 feet (300 m) down the steep west and northeast flanks of the volcano.

Climactic eruption of 22 May 1915
At 4:30 p.m. on May 22, after two quiet days, Lassen exploded in a powerful eruption (referred to as "the Great Explosion") that blasted volcanic ash, rock fragments, and pumice high into the air. This created the larger and deeper of the two craters seen near the summit of the volcano today. A huge column of volcanic ash and gas rose more than 30,000 feet (9,100 m) into the air, and this was visible from as far away as Eureka, 150 miles (240 km) to the west, on the Pacific Coast.
Pumice falling onto the northeastern slope of Lassen Peak generated a high-speed avalanche of hot ash, pumice, rock fragments, and gas, called a pyroclastic flow, that swept down the side of the volcano, devastating a 3 square miles (8 km2) area. The pyroclastic flow rapidly incorporated and melted snow in its path. The water from the melted snow transformed the flow into a highly fluid lahar that followed the path of the lahar of May 19–20, and it rushed nearly 10 miles (16 km) down "Lost Creek" to the Old Station. This new lahar released a large volume of water that flooded the lower Hat Creek Valley a second time.
he powerful climactic eruption of May 22 also swept away the northeast lobe of the lava flow extruded two days earlier. The eruption produced smaller mudflows on all flanks of Lassen Peak, deposited a layer of volcanic ash and pumice traceable for 25 miles (40 km) to the northeast, and rained fine ash at least as far away as Winnemucca, Nevada, 200 miles (320 km) to the east. Together these events created the Devastated Area which is still sparsely populated by trees due to the low nutrient and high porosity of the soil.
Phreatic activity 1915-17
For several years after the large eruption in 1915, spring snowmelt water percolating down into Mount Lassen triggered steam explosions, an indication that magma beneath the surface of the volcano remained quite hot. Particularly vigorous steam explosions in May 1917 blasted out the second of the two craters that are now seen near the northwest corner of the volcano's summit. The two older craters were buried.

(adapted from: wikipedia)

Siehe auch: Sentinel hub | Landsat 8