Llaima volcano Volcanic Ash Advisory: VA REPORTED 1650Z
Mi, 28. Dez 2016, 18:30
18:30 PM |
Volcanic Ash Advisory Center Buenos Aires (VAAC) issued the following report:
FVAG03 at 18:20 UTC, 28/12/16 from SABM
VA ADVISORY
DTG: 20161228/1805Z
VAAC: BUENOS AIRES
VOLCANO: LLAIMA 357110
PSN: S3840 W07144
AREA: CHILE
SUMMIT ELEV: 10252 FT [3125 M]
ADVISORY NR: 2016/001
INFO SOURCE: GOES-13. GFS WINDS. PILOT REPORT.
VOLCANO WEB CAMERA.
AVIATION COLOR CODE: GREEN
ERUPTION DETAILS: VA REPORTED 1650Z
OBS VA DTG: 28/1738Z
OBS VA CLD: VA NOT IDENTIFIABLE FROM SATELLITE
DATA
WINDS: FL080 310/05KT - FL100 305/05KT - FL120
290/05KT - FL140 275/10KT
FCST VA CLD +6HR: 28/2330Z
FCST VA CLD +12HR: 29/0530Z
FCST VA CLD +18HR: 29/1130Z
RMK:T+0 CONFIDENCE LOW. ARS HAS REPORTED VA
ERUPTION 20NM N SCQP OBS AT 1650Z VA CLD E
OF VN LLAIMA TOP ETI FL150. VA NOT
IDENTIFIABLE FM SATELLITE DATA AND
VOLCANO WEB CAM. ...SMN
NXT ADVISORY: NO FURTHER ADVISORIES=
Vorherige Nachrichten
Mehr auf VolcanoDiscovery
If you find the website useful and would like to support us and help keep it alive and improve it, please consider
making a small donation
.
Thank you!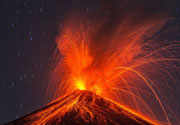 Fuego volcano photos
: One of Central America's most active volcanoes, Fuego in Guatemala is in near-permanent explosive eruption with intermittent phases of increasing activity that generate lava fountains, lava flows and pyroclastic flows.