Lokon-Empung
Stratovolcano 1580 m / 5,184 ft
North Sulawesi, Indonesia, 1.36°N / 124.79°E
Aktueller Status: normal / ruhend (1 von 5)
Last update: 8 Dez 2021 (Smithsonian / USGS Weekly Volcanic Activity Report)

The twin volcanoes Lokon and Empung, rising about 800 m above the plain of Tondano, are among the most active volcanoes of Sulawesi.
Lokon, the higher of the two peaks (whose summits are only 2.2 km apart), has a flat, craterless top. The younger Empung volcano has a 400-m-wide, 150-m-deep crater that erupted last in the 18th century, but all subsequent eruptions have originated from Tompaluan, a 150 x 250 m wide double crater situated in the saddle between the two peaks.
Historical eruptions have primarily produced small-to-moderate ash plumes that have occasionally damaged croplands and houses, but lava-dome growth and pyroclastic flows have also occurred.
Typische Tätigkeit:
Small-moderate explosive eruptions.
Ausbrüche:
1375, 1775, 1829, 1893-94, 1930, 1942, 1948, 1951-53, 1958-59, 1961, 1962, 1963-64, 1965, 1966, 1969-70, 1971, 1973-74, 1975-80, 1984(?), 1986-87, 1988, 1991-92, 2000-01, 2002, 2002-03, 2011, 2011-12, 2012-13, 2015
Letzte Erdbeben in der Nähe:
Keine jüngeren Beben
Lokon-Empung Fotos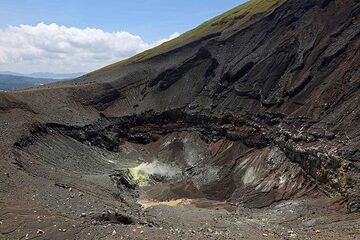 Crater, Gunung Lokon, Tomohon, North Sulawesi, Indonesia (Photo: Jay Ramji)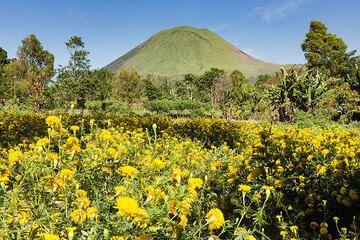 Flowers in front of Lokon volcano (Photo: Thomas Spinner)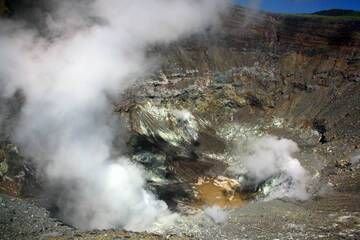 Active crater of Lokon volcano. (Photo: mlyvers)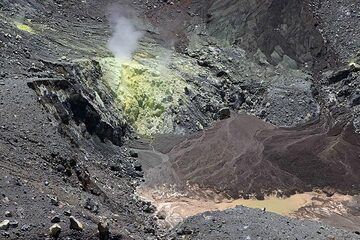 Crater Lake And Fumaroles, Gunung Lokon, Tomohon, North Sulawesi, Indonesia (Photo: Jay Ramji)
Lokon-Empung Vulkanreisen:

Volcanoes and Spices
(17-day volcano trekking tour to the Molucca Sea: N-Sulawesi, Karangetang and Halmahera)

Siehe auch: Sentinel hub | Landsat 8 | NASA FIRMS